George Carlin's favorite redundant expressions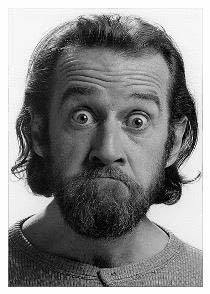 One of my favorite comedians growing up (and still is today) was the great George Carlin (1937-2008). His constantly sardonic, generally profane yet ingenious rants helped shape my thoughts during my teenage years in more ways than I care to imagine, and a particular fascination that we shared was the English language. Of course, George is better known – perhaps even infamous – for another language-related sketch, "7 Dirty Words", in which he presents and analyzes the 7 words you cannot say on television. It doesn't take an expert to work out what at least some of these words were…
However, one of my favorite Carlin English language bits is from his 1997 book Braindroppings, which outlines, as he puts it, some of "the thoughts that kept him out of the really good schools".
The bit itself is as follows, George's take on some redundant phrases that have snuck past our common sense detectors and have somehow crept their way into popular usage without anybody noticing…
"Total abstinence".

"Subject matter".

"Honest truth".

"Join together".

"General public".

"Harbinger of things to come".

"New initiative".

"Audible gasp".

"Advance warning".

"Execution-style killing".

"Future plans".

"Gather together".

"Jewish synagogue".

"Lag behind".

"Manual dexterity".

"Occasional irregularity".

"Outer rim".

"Plan ahead".

"Basic fundamentals".

"First time ever".

"Personal friend", and…

"Shrug one's shoulders".
Of course George is, as always, heavily tongue-in-cheek, but you see his point.
RIP George, and thank you for all the laughs.