Long Work Week? Colombia's Top 10 Weekend Getaways
Colombia gets a bad name in the media as being dangerous and violent, but due to a dynamic modernization campaign, it has turned itself around considerably in the past three decades.  Today nearly all of the country is perfectly safe for foreigners to visit.  Locals are extremely friendly and prices are affordable, making Colombia a great weekend getaway for anyone eager to try something new and different.  If you don't know where to begin, here are Colombia's top ten spots you absolutely must experience before you leave.
1. Bogotá.  Despite its urban environment and chilly atmosphere, Bogotá is packed with culture and history, whether you're interested in visiting the country home of Simon Bolivar, perusing arty cafes in the trendy district La Macarena, or exploring the famous Gold and Emerald museums.  Stop by in the summer for the continent's largest rock festival, Rock al Parque.
2. Medellín.  Nicknamed "The City of Eternal Spring," Medellín is famous for its modernity and innovation.  The city center is full of quirky sculptures and interactive artwork—don't miss the art museum devoted to Medellín native Fernando Botero!
3. Calí.  The salsa capital of the country, Calí is the place to go if you want to watch some of the world's finest salsa.  Located on Colombia's Pacific coast, Calí is also popular for windsurfing.
4. Cartagena.  Colombia's beautiful, balmy colonial city on the coast of the Caribbean, Cartagena is famous for being the setting of Gabriel Garcia Márquez's novel, Love in the Time of Cholera.  It's the perfect place to go for white beaches, turquoise waters, and wild parties.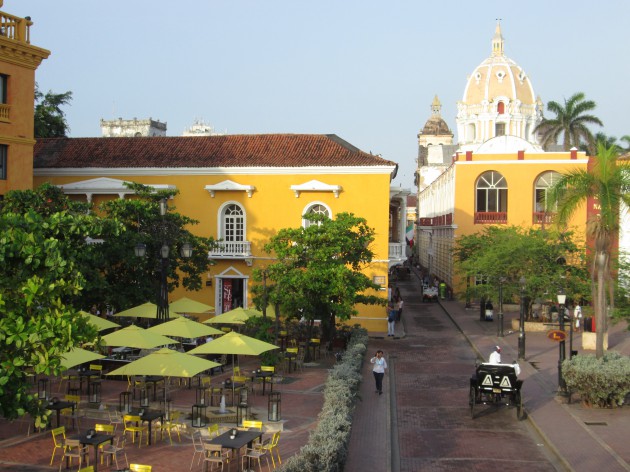 5. Santa Marta.  This tiny beach town is only an hour away from Cartagena by bus, but it's a much slower, genuine coastal experience for those seeking adventure sports and idyllic beaches.
6. Manizales.  This university city is located at the center of Colombia's zona cafeteria, making it worth a visit for those planning to tour the coffee plantations.  It's also close to natural hot springs, volcanoes, and glaciers that are excellent for trekking.
7. Barranquilla.  If you plan to travel to Colombia just before the season of Lent, this cosmopolitan city hosts the continent's second largest Carnaval, a must-see for anyone who enjoys a good party.
8. San Gil.  Get your adrenalin pumping at Colombia's adventure capital, where you can go caving, mountain biking, whitewater rafting, and trekking along beautiful waterfalls and pristine rainforests.
9. Pereira.  Another cosmopolitan city in the coffee zone, Pereira's main attraction is the Zoo Matecaña, which offers a large collection of native Colombian wildlife.
10. Isla Gorgona.  A National Park located off the Pacific Coast, Isla Gorgona is covered with tropical rainforest and makes a refreshing daytrip for anyone interested in watching humpback whales. A previously-functioning prison, Gorgona has re-invented itself over the past few decades, to grow into a beautiful national park.
Luckily for travelers new to the Spanish language, spoken Colombian Spanish is very easy for foreigners to understand (unless you're talking to a coastal dweller).  Get started with Spanish lessons by sending us an inquiry, or by taking our free online Spanish language level test.