How to Write Your Resume in Spanish
In the last decade, the job market in the Spanish-speaking world has undergone admirable growth and diversification. Every year, more and more people want to know how to study Spanish, how to write formal emails, and especially, how to make a solid resumé in Spanish.
Unsurprisingly, the most sought-after international markets are Spain and Mexico. Spain, a member of the European Union, has the fifth-largest economy in Europe behind Germany, the United Kingdom, France and Italy, and the world's fourteenth-largest by nominal GDP. Mexico, on the other hand, is the largest trading partner of the US, accounting for almost half of all exports in recent years.
If you want to seek a job opportunity in these Spanish-speaking countries, the first thing you'll need to do is create an impressive Spanish CV from scratch. (No, translating your English resumé won't do!). A great CV that adheres to local customs and conventions will get you more interviews and will help you stand out in a competitive world.
Below, you'll find a few essential tips to wow your employers with the best Spanish resume they've ever seen. But if you're a bit impatient and you want to see how your CV will look after you've finished, check a Spanish resume template on Europass for free.
→Sign Up Now: Free Trial Spanish Lesson With a Native Speaker Teacher!←
Sections of a Spanish Resume
Much like American CVs, Spanish resumes have different sections that make it easier for potential employers to find the information they need in order to see if a candidate is a right fit for any specific position. Let's take a look at these sections.
Headshot
In the United States, if you put a photo on your resume, there is a 88% probability that you will be rejected. In Spanish-speaking countries, however, recruiters expect candidates to include a professional headshot on the front page. This picture should be the size of a passport photo and it should show your head and shoulders.
Personal Information
Next to the profile photo, it is customary to include a header dedicated to contact data and basic personal information. If a recruiter is interested in discussing your application, he or she should be able to find your contact details easily, which is why they are included in a separate section at the top of the page.
This section includes the candidate's details in this order:
Nombre completo(Full name)
Edad y fecha de nacimiento(Age and birth date)
Nacionalidad(Nationality)
Dirección o ubicación(Address or a general location)
Correo electrónico(Email address)
Número de teléfono(Phone number)
International applicants might also want to include an ID number that proves they can work legally in the target country. Check what is the name and nature of this permit in the country where you wish to relocate.
Professional Experience
The work experience section is a list of the most important jobs you have had in recent years. In Spanish resumes, these posts are listed in reverse chronological order (most recent first) so that potential recruiters get a good idea of a candidate's professional progression.
Each entry in the professional experience section should follow this format:
Job title or name of the position
Company name or sector (If the company is not very well known, explain briefly what kind of organization it is)
Location
Dates of employment
Tasks and responsibilities
If you compare your English CV with a Spanish resume template, you will probably notice a big difference. Normally, in CVs for the US or other English-speaking countries, professional experience descriptions and other sections are written in paragraph format. In a Spanish resume, however, it is preferable to use bullet points instead of writing full paragraphs. Candidates should express their key skills and achievements by using action verbs such as preparé (I prepared), logré (I achieved), and promoví (I promoted). For example, "promoví un nuevo sistema de organización de archivos que incrementó la productividad del departamento en un 10%."
Education
This is the section dedicated to demonstrating the applicant's formal training, qualifications and certificates, especially those relevant to the position to which they are applying. Just as with your work experience, you should order your qualifications in reverse chronological order.
Normally, the entries in this section are structured as follows:
Name and type of qualification (you should try to provide the nearest Spanish equivalent)
Start and finish dates (If the program hasn't finished yet, use the term "en curso" to express that the course is still undergoing)
Name and location of the institution that issues the certificate
Grade (though it's not strictly necessary, you can include it if you want to demonstrate a high academic achievement)
Languages and Skills
As with the education and work experience sections, the main skills that you should include in this part are those that let employers see why you are the ideal candidate for the job in question. The best way to go about this is to research the vacancy on offer and use the job description as a guide to finding what kind of skills are required for that particular position.
One of the most crucial abilities to highlight on a Spanish resume, of course, is knowledge of the Spanish language. But what is the best way to list your Spanish skills on a resume?
If you're applying for a job in Spain, it is advisable to list your linguistic skills according to the Common European Framework of Reference (CEFR) for languages. CEFR is an internationally recognized framework that rates speakers' overall linguistic performance between a scale of A1 (basic user) to C2 (native-like fluency).
If you are applying to work in Mexico, in a Spanish company in the US, or elsewhere, you can use more general terms, such as these:
Inicial/Principiante – Beginner
Básico – Elementary
Intermedio – Intermediate
Avanzado – Advanced
Bilingüe – Bilingual
Listing your conversational skills on your resume is a great way to show confidence in your ability to cope with the communicative demands of a job in Spanish. If you are not sure what your current level is, you may want to take a free trial lesson with one of our native teachers and find out where you stand!
→Sign Up Now: Free Trial Spanish Lesson With a Native Speaker Teacher!←
Tips to Write Your Resume in Spanish
Though the kind of information that you will find in a Spanish resume template is more or less the same as you would find in an English CV, there are a couple of conventions you can follow to make your resume more Spanish-like.
Use Bullet Points
Like we said before, in the Spanish-speaking world it is more common (and much more preferable) to list your skills, achievements, and qualifications in concise bullet points rather than to write full paragraphs. Apart from making your resume more appropriate for a Spanish audience, it provides a perfect excuse to avoid having to use complex sentences whose structure you may be unfamiliar with. This leads us to the next point…
Keep Your Grammar Simple
Since most of your CV will be dedicated to narrating the work and educational experiences that qualify you for the job you're applying for, you won't need (nor shouldn't try to use) unnecessarily complex grammar. Just stick to the past simple form of verbs to explain your accomplishments, tasks, and responsibilities from previous experiences and you should be fine.
Learn the Appropriate Vocabulary
Identify the action verbs that best fit your professional profile. Find out which skills they value most in your profession and make your vocabulary choices accordingly. For example, if the target company is all about teamwork, use verbs like colaboré (I collaborated), apoyé (I supported), ayudé (I helped), and coordiné (I coordinated). If your post is one in which you're expected to solve a lot of problems, describe previous work experiences by saying things like resolví (I solved), reduje (I reduced), aumenté (I increased). Do you need to sound proactive? Then use verbs like empecé (I started), creé (I created), desarrollé (I developed).
Ask a Native Spanish Speaker to Proofread Your Resume
No matter how much effort you put into your Spanish resume, it's completely normal to make a few mistakes, either in spelling, grammar, or vocabulary. If you want to make sure that your Spanish CV is flawless, ask a native speaker of the language to give it a read before you submit it. You don't know any? Not a problem. Just get in touch with us and we'll pair you up with a native tutor for an individual lesson so they can teach you all the ins and outs of writing your resume in Spanish, proofread your production, and give you some feedback.
Example of a Resume in Spanish: The Ideal Template
Now that you've read all these tips, it's time to see how they all combine to make a great Spanish resume. If you are thinking about creating your own CV, use this Spanish resume template as a model and be ready to wow every potential recruiter in the Spanish-speaking market.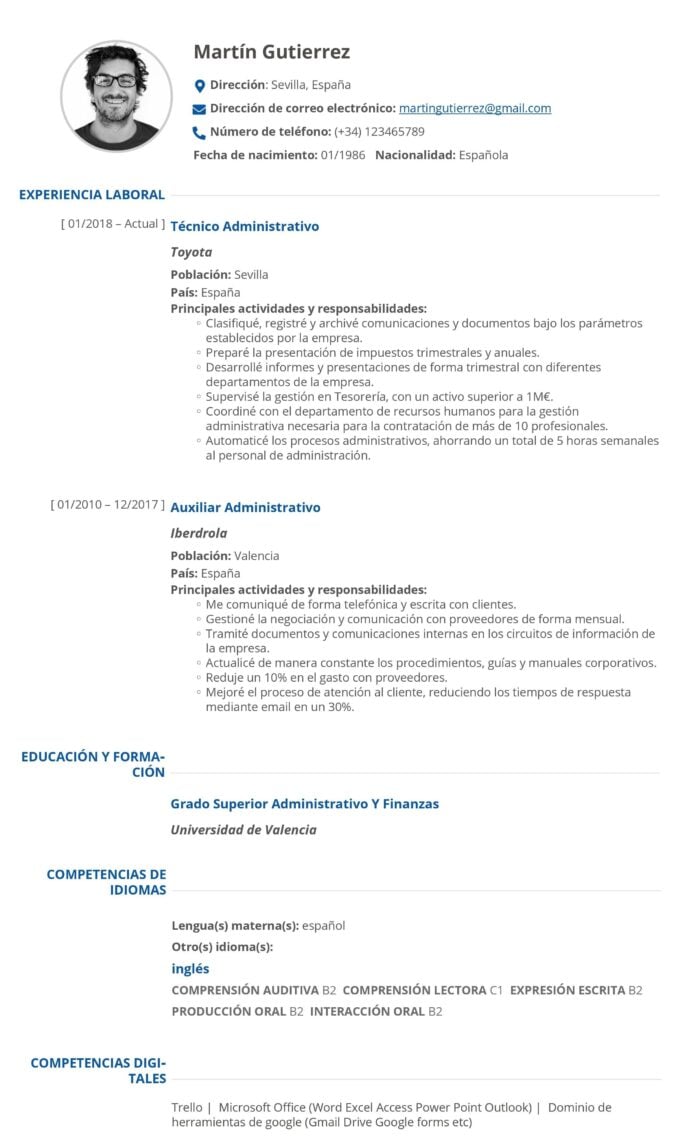 →Sign Up Now: Free Trial Spanish Lesson With a Native Speaker Teacher!←
Do you still feel like you could use some personalized help? No problem. Just send a quick message to us and we'll match you with a qualified native teacher of Spanish for a tailor-made individual lesson. No, you don't need to buy a whole course! In fact, the first lesson is on us. Yes, we are offering you a free trial lesson, no strings attached. Contact us now and get started!