The Importance of Motivation in Language Learning
When you learn a new language, it's perfectly normal to feel frustrated every once in a while. Sometimes, you pass the pages of your grammar book and you try to remember why it was you put yourself through so much pain in the first place. If this has been happening to you more than usual these days, I know what you are lacking: Motivation. No matter how desperately you want to achieve your final goal, without motivation to sustain you through the process, you won't get very far.
→Sign Up Now: Free Trial Language Lesson With a Native Teacher!←
In this blog, I will present to you three real stories of people who found themselves without motivation and set out to find it again in amazingly creative ways.
Nick – Learning Is Better If You Have Fun
When Nick first arrived in Mar del Plata, a coastal city in Argentina, he didn't know anybody. He had chosen to take a scholarship there because, having been born and raised in San Diego, he knew he wouldn't want to be away from the sea very long. While he enjoyed the time he spent at college studying Spanish Literature, his language classes were not that great. Forced to talk about topics that he found dull and impersonal, he couldn't stop thinking that he would probably learn more Spanish if he just skipped lessons and went to a pub to make new friends.
"Are you joking?", said Tom, one of his classmates at University, when Nick made a comment of the sort after a lecture on Don Quixote. "I host a monthly language exchange, for foreign students living in Mar del Plata, in a pub."
When I asked Tom, who still remembers this exchange, why he hadn't told Nick about the exchange before, he said "I didn't even know he was American. He was quite shy, Nick. That was probably the first time I ever heard him speak. I think MDQ Exchange did a lot for his confidence."
So what was this MDQ Exchange all about?
"Well, first of all, I know this is confusing, but MDQ is just short for Mar del Plata. You see, when Mar del Plata was founded, the acronym "MDP" was already in use, so we had to settle with "MDQ". Now, about the Language Exchange Evenings, I can give you much more detail. When I was studying Literature eight years ago, I had a part-time job teaching Spanish to foreigners residing in Mar del Plata. Though the lessons were great, I did notice that on the rare occasions we went out together after class, most of the people did more speaking than in class. I don't know if it was the beer, the low lights, or just the relaxed, friendly atmosphere, but it gave me an idea – the idea to host a language exchange experience where people could drink, play games, learn languages, and make friends."
After a two-year break, Tom and the gang are resuming MDQ Exchange next month. All you have to do is show up, choose a flag sticker representing the language you want to practice for the night, and join the right table. At the end of the night, there is a world culture and language-related trivia, and lots of inventive prizes for winners.
"If you're learning a language and you find yourself without motivation", says Tom, "I urge you to go out and join a conversation group, a language exchange program, any event or experience that will allow you to learn by sharing your time and your skills with other people. I can assure you it will work wonders for both your language abilities and your confidence. It worked for Nick, anyway!"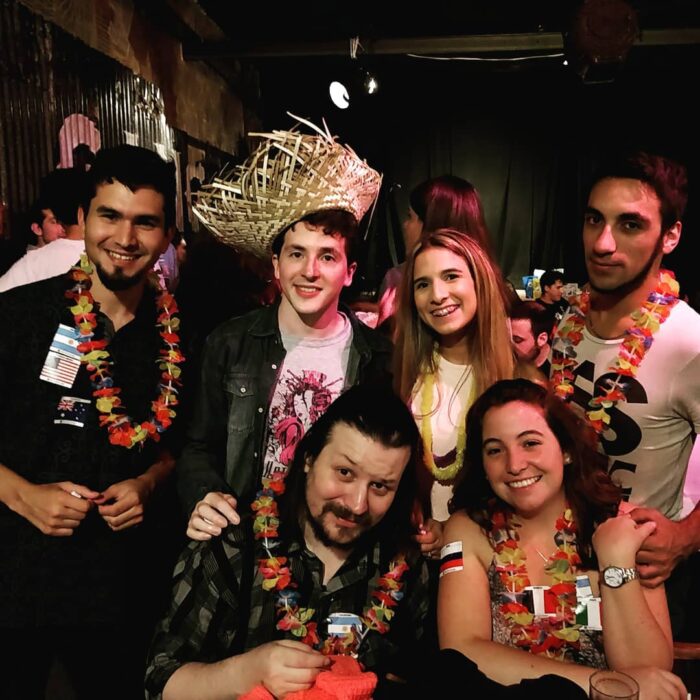 Fernando – Combining Passions
I met Fernando on an online film forum back in 2017. Though the website was quite active, with hundreds discussing their favorite stars' award chances, I always made sure I read Fernando's comments. He was incredibly knowledgeable and, over the years, I learned a lot about the craft of filmmaking from his entries, in which he discussed technical aspects of popular movies. In 2020, when one of the website hosts announced that the forum was coming to an end, I immediately DMed Fernando and asked him to follow me on social media so we could keep in touch. And how happy I am that I did.
Fernando Lorenzana was born in Oviedo, Spain, in 1991. For as long as he can remember, he loved the theater and the cinema. In 2016, he graduated in Stage Directing at the Royal School of Dramatic Arts in Madrid (2016) but his greatest love in the world of filmmaking. Three years ago, he completed his theatrical training at the London Academy of Music and Dramatic Arts, and he decided to give his first steps as a filmmaker by writing a directing a short film with an English actor before he left London. The problem was that… he barely spoke any English.
"I never felt so motivated to learn English as I did back then. When I studied English at school, I never really saw the point. The school's approach, which was very grammar-focused, never really inspired me to connect with the language. However, as I became more and more immersed in the world of film, my relationship with English changed completely. As you know, to this day most people in my country watched English language films with Spanish dubbing. Well, one day, I decided I didn't want to do that anymore. I wanted to see English films in their original language; I wanted to hear the voices of all those actors I admired so much. That's why, when the opportunity came to do an Erasmus scholarship in London, I took it without thinking twice."
Two years later, Fernando had not only learned to communicate in English, but he knew enough English to write and direct his first short film in that language. Marcus, which was was selected for competition at renowned international film festivals, is a disquieting portrait of a shy and observant boy who is equally unsettled and attracted by his new roommate, Marcus.
Fernando, who is now about to direct his first feature film, said about his experience: "When you have real motivation to learn a language, the learning will take place naturally, almost effortlessly. I advise anyone who finds themselves without motivation to think about what it is that they really love doing, and then start doing it in the target language."
Stephen – A Little Help From My Native Teacher
By now, it's clear that it's impossible to learn a language without motivation. You don't only need a great plan, you need to connect the learning with your personal interests. The problem is that traditional language schools don't seem to agree. With outdated lesson plans, uninteresting topics, and big classes that make it difficult for students to get the chance to practice speaking, language schools can sometimes convince even the most committed learners that languages are not for them.
For Stephen, finding our one-to-one, personalized courses taught by native speakers was a game-changer.
"I am a recently retired Customs Officer who, with my wife, bought a property in Turkey in 2008. We have only been to Turkey two or three times a year since then but, as my wife is due to retire soon, we hope to spend longer periods of time there.
We had tried language classes in Turkey in the early days but lessons were not given by a professional teacher and to a class of about twenty. It was a failure. We have since picked up bits and bobs of Turkish but it is difficult to gain fluency when the locals almost always speak English or offer to bring you someone who does.   
I embarked on Duolingo two years ago, when I was still working. It has helped but, as you know, it is mainly driven by self-motivation, which does not always work. My change in lifestyle and the likelihood of increased time in Turkey led me to the decision to seek teaching on a proper basis.
I found Language Trainers pretty much by accident. I googled "Turkish lessons near me", without knowing what would happen. As soon as I found you and sent you a quick message, I was contacted by someone who was very polite and she set the ball rolling. There was no hard sell, and e-mails between me and the course administrator were informal but professional. We had a taster session with a very pleasant and friendly tutor who made me feel relaxed and at ease with my limited capabilities. That was enough to persuade us to commit to a ten-lesson course with the intention of doing more after that.
 I am no IT wizard, but I can tell the presentation online is incredibly attractive and convenient. Our interactions with the teacher are excellent as is the fact that he can "write" words on the screen as we speak. He clearly has a plan that is well structured and delivered. Plus, he has a wonderful sense of humor, which is welcome. Our vocabulary and confidence have increased immeasurably in just a few sessions (which probably goes some way to demonstrating how great our teacher is!)"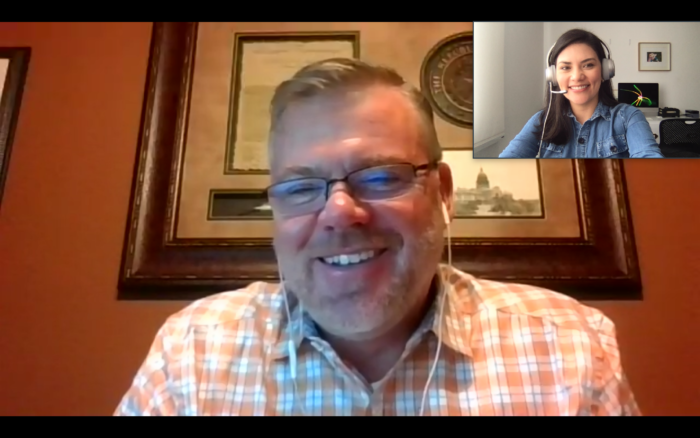 The three stories in this blog may be very different from one another, but they all have something in common. They are about people who had lost the motivation to learn a language and were able to find it again by daring to try new things.
If you're feeling bored, frustrated, or without motivation in your language studies, you've come to the right place.
→Sign Up Now: Free Trial Language Lesson With a Native Teacher!←
At Language Trainers, we specialize in personalization. Send us a quick message saying what language you want to learn and we'll tailor a lesson plan based on your needs and preferences. Then, we'll pair you up with the best teacher in our company so that you can find your love for learning again!