Madrid often gets overlooked when compared to Spain's more glamorous cities, like Barcelona or Seville. While it may not have any beaches or national parks, Madrid makes up for all of that in terms of culture and history. Its art scene is one of Spain's most thriving, and you'll never be short for museums and galleries. Even if you're only in Madrid for a few days, here are the top five museums you absolutely cannot miss.
1. El Prado. Spain's answer to the Louvre, El Prado is in the center of Madrid, and one of Europe's finest collections of sculpture and paintings dating back to the 12th century. While much of the collection are works by classical Spanish artists, such as Diego Velasquez, Francisco de Goya, and El Greco, it also contains work by foreign artists as well, most notably Titian and Hieronymus Bosch. For anyone with an interest in medieval and Renaissance art, this is a must-see.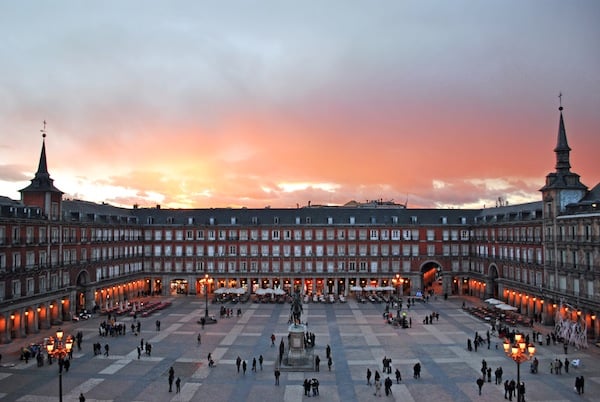 Madrid's Plaza Mayor. Photo from Wikimedia
2. Reina Sofia. For lovers of contemporary art, the Reina Sofia (located a short walk from El Prado) is the museum for you. A stunning collection of Spanish art throughout the 20th century, the Reina Sofia houses world-famous pieces by legendary artists such as Picasso, Salvador Dalí, and Joan Miró. By far its more famous work is Picasso's overwhelming mural Guernica, but with thousands of paintings, photographs, and sculptures exhibiting the Cubist, Surrealist , and Postmodern art movements, it's sure to be an enlightening visit.
3. Museo Thyssen –Bornemisza. The third art museum in Madrid's "Golden Triangle of Art," the Thyssen-Bornemisza Museum started off as a private art collection and now serves as the less famous companion to the Prado and Reina Sofia. But don't let that put you off; the Tyssen-Bornemisza has an eclectic stash of works by artists such as Cezanne and Carpaccio, covering the art world from the Gothic to the Modern era with a surprising collection of 20th century American paintings in addition to Northern Renaissance pieces.
Can you recognize a Castilian Spanish accent? What about an Argentine one? Play our Spanish Accent Game to find out!
4. Museo Arqueológico Nacional. Located on the same square as the National Library, the National Archeological Museum dates back to the 19th century. What started as an anthropological collection mushroomed into Spain's most extensive look of human civilization, focusing on the language and cultures of Spain and Latin America, with a fascinating array of relics from prehistoric, ancient Egyptian, Celtic, Greek, Roman, and early Christian and Muslim societies. With only €3 for an entrance fee, it's definitely worth your while to get a close and personal look at the evolution of humanity.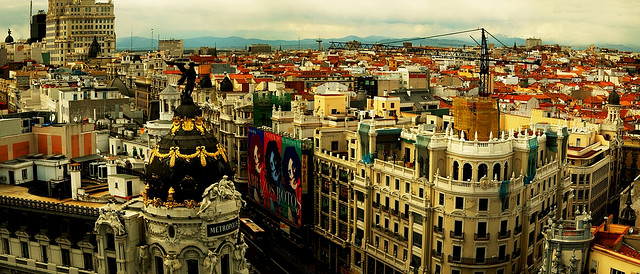 Madrid from Above by Flickr Alvaro Millán
5. Museo Nacional de Ciencias Naturales. For those most inclined towards environmental sciences—geography, ecology, paleobiology, and so on—the Museum of Natural Sciences makes for a great afternoon, especially if you're traveling with children. Here you'll find exhibits looking at fossils, geodes, dinosaurs, volcanoes, and much more, and well as hands-on workshops and activities for families.
Madrid has plenty more museums where those came from, as well as a fair amount of cultural districts and historic parks, so don't be too quick to write off Spain's capital in favor of its more flashy cities. If you're looking to make a trip to Spain in the future, prepare yourself by sending us an inquiry about our Spanish courses or take our free online Spanish language level test.