5 of the Best Places to Celebrate Easter in Spain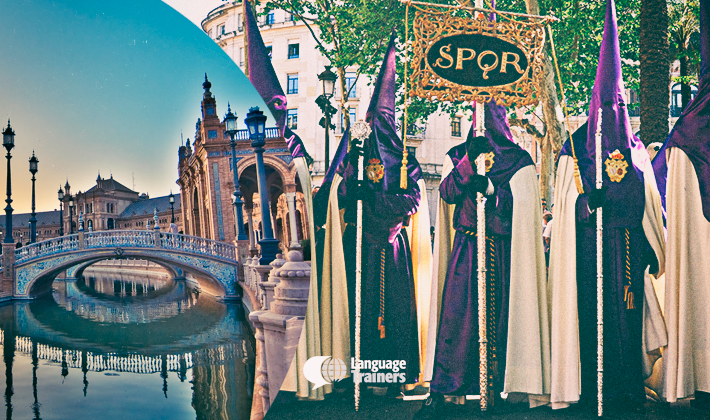 Holy Week (or Semana Santa) is Spain's biggest religious festival and the entire nation seems to turn out for good food, to watch the ceremonies, and to enjoy time with friends and family. This year Holy Week runs from the 9th of April to the 15th and if you're planning a trip to Spain during this period you'll definitely want to partake in some festivities. If you're looking to immerse yourself in the drama and passion that is celebrating Easter in Spain, check out these five amazing destinations for some Semana Santa fun!
1. Seville
Religious processions take to the streets all through Holy Week and you can find them happening in practically every city in Spain. However, if you want a truly over-the-top experience head to Seville in the southern part of the country. Seville boasts one of the most ornate and glamorous series of processions—some of which take place throughout Thursday night and into the wee hours of the morning on Good Friday.
This city also has long-standing flamenco traditions, so the parades and processions are often punctuated by bursts of flamenco dancing on the balconies overlooking the routes.
2. Valencia
Valencia does things a little differently from the rest of the country by celebrating Maritime Holy Week. There are three crowning moments to the rich traditions that go into celebrating Maritime Holy Week in Valencia: the Blessing of the Palms, the Procession of the Holy Burial, and the Resurrection Parade. There are lots of reenactments which go along with these important events and you'll find locals dressed as biblical figures and accompanying the processions with bells and music. The Holy Burial takes place on Friday and is a solemn event but on Sunday and Monday families head down to the old riverbed to enjoy a day out trying Holy Week treats and meeting friends and family.
3. Barcelona
No trip to Spain would be complete without spending some time in one of the nation's most iconic metropolises, but doing so during Easter weekend is a definite must! Holy Week in Barcelona is literally a movable feast with tasty treats for the eyes and tongue.
You'll see plenty of Easter processions in Barcelona – although definitely not on the scale of places like Seville, as most Barcelona locals leave the city during Semana Santa. Something to keep a look out for are the religious brotherhoods who dress in white pointed hoods and take part in the parades. And don't miss out on trying mona de pascua, a hard, doughy cake with a boiled egg on top (some say the chocolate flavored ones are to die for).
Learning Spanish? Check out our free Spanish placement test to see how your level measures up!
 4. Valladolid
Each year, Valladolid hosts what is considered to be the most religiously intense Holy Week in Spain. On Good Friday there is a general procession called the Redeemer's Sacred Passion in which thousands of people take part. The main event is the Sermon of the Seven Words, held in Valladolid's main square. In preparation for the occasion, the square is draped in black cloth and during the Sermon of the Seven Words a priest will talk about the seven words Christ pronounced while hanging on the cross as floats reflecting each theme are displayed to the admiring audience. You'll need to know Spanish if you want to get the most out of this particular festivity, but the experience will stick with you long after you leave!
5. La Rioja
If you're looking for a bit of a more unusual Easter celebration experience, pay a visit to La Rioja, a village in Northern Spain. Self-flagellation was a common practice in Catholic tradition up until the 18th century, but today La Rioja is one of the few places in Spain where you can still witness it in action.
In La Rioja, men who wish to take part in self-penitence can do so publicly. During the procession, the penitents (also known as Picaos) dress in white habits and strike their backs with grass ropes for around twenty minutes. Be warned that this may not be for the faint of heart or those who are queasy at the sight of blood as this form of flagellation can result in causing wounds and bleeding for those taking part.
Have you been to Spain during Semana Santa? What are some of your favorite places to celebrate the holiday? What are some must-see activities?