Why is La Liga Moving to Dubai?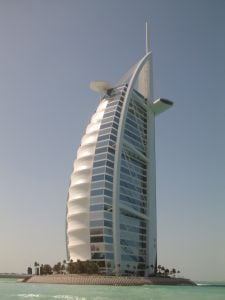 At the opening of La Liga's first office in the emirate city, we look at why Dubai has become such an attractive site for thriving businesses and what you can expect if work takes you there.
At the opening of La Liga's first office in the emirate city, we look at why Dubai has become such an attractive site for thriving businesses and what you can expect if work takes you there.
Last month, top division of the Spanish football league, La Liga cut the ribbon on its first office at Dubai Airport Free Zone Authority (Dafza) towards the end of the month. Although this may seem a strange move for La Liga, for a football league thinking on an increasingly international scale, Dubai's location and overall economy are key aspects of its appeal. Dubai continues to flourish in terms of both its booming trade in tourism and its status as an international business centre. Mr Sanz has spoken of Dubai as La Liga's "gateway to Asia" which will enable the league to extend its reach east while supporting its activities in the Middle East and North Africa.
In an interview with Gulf News, former Real Madrid defender and La Liga's Middle East and North Africa (Mena) General Director Fernando Sanz had this to say about the existing demand for Spanish league football outside of Europe: "It is La Liga's clear intention to bring our football and our experience closer to our fans around the world. Sevilla, Valencia and Villareal [Spanish league teams] are currently on tour in Asia and in the near future we hope to bring some teams to the Mena region."
Mr Sanz has become familiar with the city having spent upwards of one year living there, promoting the league and meeting with the emirate's native investors who have been essential to bringing the league its new global audience. For La Liga, branching out through Dubai makes a lot of sense from a business perspective.
But what should you expect if your work takes you to Dubai? Here are some key ideas to remember to avoid getting lost among the skyscrapers.
Language in Dubai
Even though roughly ten to fifteen per cent of the emirate's population was comprised of UAE nationals as of 2013, Arabic is spoken throughout the UAE and is considered the national and official language. English speakers are also well represented in the UAE. For example, there are over 100, 000 British expatriates living in the city, outnumbering all other groups of Western expatriates.
English is the city's second most widely spoken language, and is considered the language of business. Therefore, depending on where you are working, you may find that those around you are speaking English more than Arabic. However, you are likely to encounter much colloquial Arabic as the language is endorsed by law across all governmental departments.
Visit a school, a university or even a hospital and you will almost certainly be faced with the language everywhere you go. Pick up a book or a magazine and you will see more, as you will if you turn on the television or the radio.
As is true of any foreign destination, understanding your environment can only ever be beneficial. In Dubai, being able to write and speak Arabic will give you a distinct advantage in both your business and the relationships you forge with others.
Islamic Culture in Dubai
While Dubai is both modern and welcoming it is important to remember that it has a strong religious heritage. Islam is fundamental to Dubai's beautiful culture and will likely play a major part in your experience of the city during your visit, particularly if you wander through the older areas or visit one of the mosques open to non-Muslim visitors. Even if you keep to the business districts and modern hotels during your stay, you are certain to hear the call to prayer throughout the city at sunset. Dubai is an extremely warm and welcoming environment for visitors but there are certain cultural differences. In matters of courtesy and hospitality, it is important to carefully observe local laws and customs.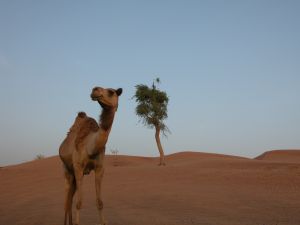 Dubai has a desert climate, and, with an average daily high of around 106 °F in the summertime, it is hot. Really hot! Regardless, visitors to the city should remember to dress modestly in accordance with the local culture. For your leisure time, shorts and t-shirts are generally considered appropriate, but as you move into the parts of the city more strongly linked with religious and cultural heritage, men and women are encouraged to dress comfortably while covering shoulders, arms and legs.
Alcoholic beverages are available in licensed bars and restaurants in Dubai, yet it is important to remember that alcohol is prohibited under Islam. While it is easy to see that you should never either drink or be drunk in public, it is also important to remember not to offer alcohol to Muslim guests. Similarly, while Ramadan is a particularly lovely time of year to visit Dubai, guests and residents alike must refrain from eating and drinking in public during daylight hours during this important time of fasting in the Islamic world.
It is imperative that you should maintain dignified and respectful behavior in public at all times. Public displays of affection beyond hand holding should be kept to a minimum and it is important to remember that in accordance with religion and culture, the following are considered illegal in the city: cohabitation, sex outside of marriage, adultery, homosexuality and having a baby out of wedlock.
Although Islam is the official state religion of Dubai, there are also large groups of Christians, Hindus, Sikhs and Buddhists represented here as well as other religious communities. If you are moving to Dubai for work you will likely be able to find a place of worship, although there are certain regulations to follow regarding how and where you practice your faith. Find and be familiar with these guidelines before your trip.
Prime Location and Financial Opportunity
Owing a great deal to its strategic geographic location, the emirate has served historically as an important trading hub and has long been recognized as a global city. Located on the southeast coast of the Persian Gulf, Dubai today is an imposing metropolis at the centre of the world map which attracts business from the earth's four corners.
The rapid development of the city continues to incorporate the world's most ambitious projects. There are man-made islands, vast shopping plazas and of course the record-breaking skyscrapers which embody the city's progressive spirit. While its initial wealth was brought about by the region's trade in oil, Dubai has since found vital growth in the tourism, aviation and real estate industries as well as strength in financial services.
Enjoy Your Stay!
Dubai is certainly a great destination for both recreational travellers and Western businesses seeking to expand their international presence towards the Middle East. You will no doubt find many fascinating aspects to the city's exciting, emerging landscape. Just remember that success in travel and in international business always relies on your understanding of and integration into the local culture.