Improve Your Hindi with These 4 Must-Watch Bollywood Films
With their abundant dialogue and catchy musical numbers, Bollywood films offer viewers a great chance to practice their Hindi listening skills. They will also introduce you to the most famous actors and filmmakers in the booming Bollywood industry, which will surely score you some points with your Indian and Hindi-speaking friends and connections. These four films are some of the best ones out there for improving your Hindi and familiarizing yourself with the key players in Bollywood cinema.
1. Barfi!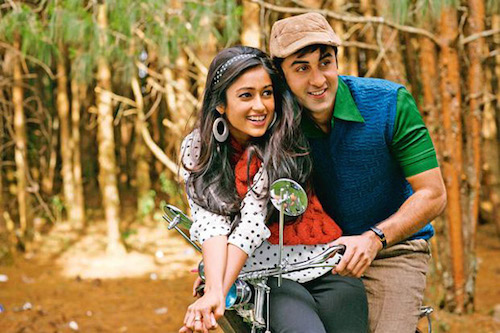 Image via India-Forums
Don't be deterred by the title: Barfi! is a light-hearted and optimistic comedy about a deaf-mute boy who forms a bond with his autistic neighbor. In addition to its heartwarming plot, its songs are great for learners of Hindi. For example, one catchy musical number, "Kyun" ("Why?") gives viewers excellent practice with forming questions in Hindi. Barfi! will also introduce you to actors Priyanka Chopra and Ranbir Kapoor, who earned rave reviews for their performances. They're very well-known within Bollywood films, so remember their names when you're talking about movies with your Indian friends. Full review of Barfi!
2. Jab We Met
Jab We Met is a classic Bollywood love story about a boy and a girl who meet under extenuating circumstances on a train. As its title suggests, the film uses abundant Hinglish — a combination of Hindi and English. For instance, in Hindi, "jab" means "when", so the title translates to "When We Met". As such, it's great for beginners who aren't quite ready to fully immerse themselves into the Hindi-speaking world. The two lead actors, Shahid and Kareena Kapoor, are a famous on-screen couple — watch out for them in other Bollywood movies, too. Full review of Jab We Met
3. Rock on!
Rock On! is one of the first rock-themed films to hit the Bollywood scene. It stars Farhan Akhtar, who is one of the most famous director-producers in India; in Rock On!, he proved that he can not only direct and produce, but also act and sing. Many of the songs in Rock On! became famous on their own, even outside the movie. Learn the lyrics to "Socha Hai" ("Have Thought"), and sing along with your Hindi-speaking friends! Full review of Rock On!
4. Raanjhanaa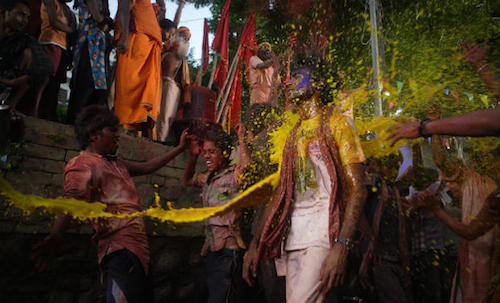 Image via Deccan Chronicle
A dramatic love story involving passion, death, and betrayal, Raanjhanaa is the perfect movie to watch when you want to be dazzled. It stars the critically-acclaimed and nationally beloved actor Dhanush, a common man who falls in love with and avidly pursues an upper-class girl. You'll learn plenty of Hindi words, such as "thapad", which means "slap" — in fact, Dhanush gets slapped twenty times in the film, yet remains persistently fixated on his betrothed. Another dazzling fact about Raanjhanaa is that Dhanush didn't speak Hindi until filming began — use his perfect command of the language as inspiration for your own Hindi language-learning journey! Full review of Raanjhanaa
As Bollywood films continue to become more popular, actors like Dhanush or Priyanka Chopra may become household names in the English-speaking world. But for now, these beloved Hindi-speaking actors are rarely talked about outside of India, so you're sure to impress your Indian friends and connections by knowing and recognizing them. In addition, these films give you a great chance to hear the Hindi language, both in dialogue and in song. Of course, if you really want to improve your Hindi language skills quickly and effectively, consider taking tailor-made lessons from qualified, native-speaking Hindi language trainers. Send us an inquiry to learn about our course and package options.