Language Exchanges | The Very Best Websites and Apps: Part II
Wouldn't it be great if travel were free and you could take an indefinite amount of time off of school or work to travel and study a foreign language? That's the stuff that language learners' dreams are made of. Unfortunately, reality is harsh, travel is expensive, and taking huge chunks of time off can leave you broke, jobless, and without a diploma. How, then, can a language learner get practice with native speakers while still keeping up with their responsibilities?
Enter language exchanges. Recently, several websites have been popping up which allow language learners from all over the world to connect. The idea is simple: you make an account and connect with native speakers of the language you want to learn; in exchange, you help them practice your native tongue. Here, we've hand-picked some of the very best language exchanges, ideal for the self-motivated language learner.
1. Papora
Papora is an all-in-one goldmine for the self-motivated language learner. Ambitiously combining thorough lessons, one-to-one language exchanges, group forums, and a language and culture blog, it's an ideal tool for those who want to seriously improve their foreign language skills outside of class.
Its two most useful features are its language exchange service and its lessons. Both are straightforward and easy to use, allowing you to instantly connect with fellow language learners across the globe. Conversations are free and unlimited, and with thousands of active users, you're almost guaranteed to find somebody who natively speaks your language of study.
The conversation exchange service also is simple and user-friendly on a Smartphone (Papora has a free app). This, combined with the fact that lessons are presented in digestible, 10- or 15-minute chunks, makes Papora an excellent choice for busy language learners who want to squeeze in some practice on the way to work or during small periods of downtime.
Our Favorite Features: The combination of free lessons and conversation exchange makes it easy to practice the skills you've learned with native speakers. The intuitive design of the website is easy to understand, and the app is equally user-friendly.
Room for Improvement: The conversation exchange lacks some useful features, such as displaying your partners' time zones or interests.
Papora is an exceptionally useful app for those who are busy or often on-the-go. Its combination of lessons and conversation exchange — all in the same place — allows users the unique opportunity to both learn in an academic setting and practice their skills in a real-life context.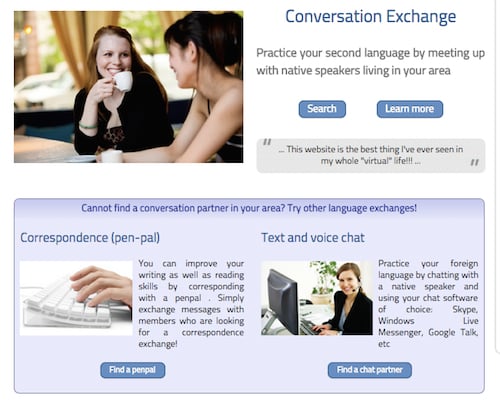 Established in 2005, Conversation Exchange was one of the first language exchange services, and retains a loyal group of users to this day. Conversation Exchange began originally as a vehicle for face-to-face meetups: it was designed to connect speakers of various languages who lived close to each other. In other words, it was like a dating site, but with language-learning as the goal instead of romance.
Since then, it has grown to include pen-pal exchange (i.e., online message exchanging). Users have the option of indicating that they would like to communicate through video chat, although Conversation Exchange does not host its own video chat and it must be done instead through Skype.
Our favorite features: Given that the emphasis is on face-to-face meetups, Conversation Exchange is one of the few services that can reliably connect language learners in real-life settings, rather than through the Internet. It is well-known internationally, and thus is especially useful for those who would like to find a conversation partner abroad.
Another neat feature is the rating system: Conversation Exchange allows users to be rated (on a scale from 1-5 stars) by people with whom they've spoken. This effectively protects users against spam, and ensures that the community is full of genuine language learners with no ulterior motives.
Room for improvement: Though the website is mobile-friendly, there is no app for Smartphone users; however, we have been told that one is coming in the next few months.
Especially if you want to connect with native speakers to have an in-person conversation, Conversation Exchange is a reliable and useful service.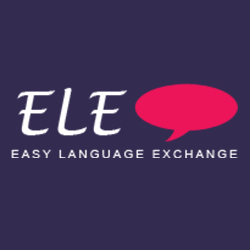 Easy Language Exchange lives up to its name: it's a straightforward, easy-to-use, no-frills language website. Creating a profile is easy and requires only a photo, your native language and language of study, and a brief description of yourself. From there, you can browse the over 20,000 registered users based on their language preferences in order to find your ideal conversation partner, with whom you can chat via text, audio, or video. There are (mostly English-language) forums where you can discuss topics in culture and language learning. You also have the option of adding friends in order to keep track of your connections.
Our favorite features: The beauty of Easy Language Exchange lies in its simplicity. It's user-friendly even for those who are less tech-savvy or don't make extensive use of social media. It's especially useful for Spanish speakers who want to learn English (and vice versa), as over 20% of its user base consists of people seeking Spanish-English language exchanges.
Room for improvement: Given its simplicity, it lacks some useful features that other language exchange services have, such as an accompanying mobile app. However, the staff at Easy Language Exchange assure us that several new features are underway.
Ultimately, Easy Language Exchange does its job well, and is an ideal choice for those who want to improve their language skills in a simple and hassle-free way.
Indeed, connecting with native speakers doesn't have to be expensive, and it certainly doesn't need to cost you your job. The above sites have something to offer every language learner, whether you're looking for additional refresher classes, you want to meet native speakers in person, or you just want a simple and easy-to-use platform. While language exchanges are great, they can't take the place of tailor-made language courses taught by native speakers. When you take a class taught by a qualified, native-speaking teacher, your conversation exchange buddies will be astounded at how quickly you improve!