Your Guide to Celebrating Mardi Gras in New Orleans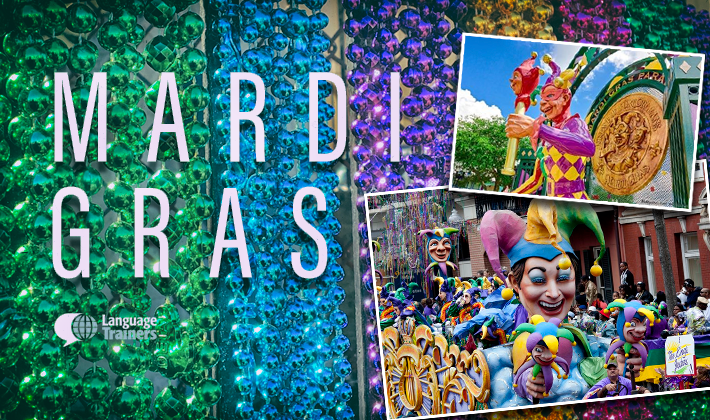 New Orleans is an iconic city with a rich and unique culture. However, this metropolis is perhaps most well-known (and stereotyped) for its annual Mardi Gras celebrations-which this year fall on February 28th. Joining in on the festivities can be a wild and wonderful experience, but if you're a first-timer you may be feeling a little hesitant about completely letting loose. Not sure what to expect? Don't worry, we've got you covered. Check out this guide to Mardi Gras in New Orleans and join in all that costume-wearing, bead-tossing, parade-dancing fun!
What is Mardi Gras?
Mardi Gras takes its origins from pagan traditions where hedonism (a.k.a crazy, crazy parties) were common in the Spring. The Catholic church eventually took over the traditions and put in place a season of feasting leading up to Ash Wednesday and the start of fasting for Lent. In fact, the word carnival derives from a similar Latin word which literally means 'farewell to the flesh'. Hence, for five days leading up to Ash Wednesday people go absolutely insane! The last days of festivities is Fat Tuesday, or Mardi Gras.
What happens at Mardi Gras?
There are a slew of activities to take part in during Mardi Gras and you'll definitely feel spoilt for choice! It used to be a Creole tradition to organize masquerade balls during carnival after which masked revelers would take to the streets. These days, while there still are private balls in New Orleans, you'll mostly find the action happening on the streets with people dressed up in colorful masks and costumes. There's also multiple parades with huge colorful floats that takes place during Mardi Gras. Luckily, there are apps available to help you track the many parades happening as well as the routes they are taking.
What's a Mardi Gras krewe?
Krewes are the life of the party during Mardi Gras and responsible for organizing parades and bashes throughout the carnival season. They'll usually be the ones riding the floats and tossing beads and other goodies into the crowd as the procession passes. Each krewe has its own personality – and the wackier and quirkier they are, the better. Some of the best known ones are Zulu (known for their historic parade themes), Rex (known for their purple, gold, and green), and the all-female Iris (recognized by their white gloves and masks).
How do I get to Mardi Gras?
Driving to the hub of Mardi Gras fun is useless as parking is expensive and extremely hard to find— especially during carnival season. Stay within walking distance of the party locales or Uber it (be sure to book taxis way ahead of time). An added bonus is that you won't have to worry about your alcohol intake if you're not driving!
Where can I hang out at Mardi Gras?
Bourbon Street gets particularly rowdy during carnival season and pretty much becomes the hub of drunken mayhem. If that's your idea of fun, then go for it, but if not it's best to stay away. Choose the parades you're most keen to see and track their routes so that you're at the right place at the right time. Small details like a place to use the bathroom, seating, and comfort should all play a part in your choice of where to go.
What else can I do at Mardi Gras?
Mardi Gras is a huge opportunity to not only party it up, but to partake in the local cuisine. There are amazing restaurants all around the French Quarter where you can find traditional Louisiana dishes. We're talking gravy-soaked biscuits, gumbo, and hearty fried chicken. Don't miss out on popping in to the world famous Café du Monde the morning after the festivities end to nurse your hangover with amazing chicory coffee and beignets!
How can I be safe at Mardi Gras?
As with any new travel experience, use plenty of common sense when you participate in Mardi Gras in New Orleans. Avoid wearing expensive jewelry, leave purses and bags at home, and keep an eye out for pickpockets. As Mardi Gras gets extremely crowded and rowdy, it's all too easy for pickpockets to target and rob people. That's not to say you should be afraid, but revel responsibly so you can come away having had a great time and not have the overall cultural experience tainted.
Have you ever celebrated Mardi Gras in New Orleans? What are some tips you can share with first-time revelers?