Vuvuzelas a "12th language" of South Africa… says the man who marketed them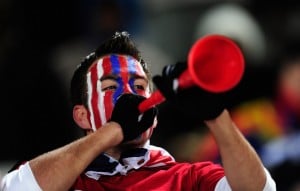 With the noise of the crowd in every World Cup soccer match being drowned out by these irritating horns, to most people they are an annoyance. But Neil van Schalkwy, the man who mass-marketed the ear-piercing 130+ decibel horn to the country starting 10 years ago, heralds the vuvuzela's tone as something of an 'international language' in the multi-lingual country of South Africa.
Since the competition began, the vuvuzela has been criticized by many not only for drowning out the noise of the crowd, but also for being the only thing you can hear on TV during the game, disrupting the coaches' ability to instruct players mid-game, and for causing permanent damage to fans' hearing.
Mr Van Schalkwy claims that the vuvuzela is as much a part of the culture of soccer in South Africa as singing is elsewhere. In much of South America, drums are played throughout matches, though this kind of "tubthumping" is nothing compared to the incessant, almost brutal drone of the vuvuzela.
However, with two ties in the World Cup so far, Team USA will have to do more than rely on just loud supporters. The last match against Algeria is a must-win for Americans!