How Virtual Language Learning Helps Your Career
Continuous education is essential to stay ahead of the competition in any profession. One skill that is consistently in demand and that usually brings about a generous raise in earnings is the ability to speak a foreign language.
Of course, people already working may find it hard to make the time to learn a new tongue. No matter which language you want to learn, they all require a large time commitment.
So, what can you do to boost your career and learn a new in-demand skill while working your day job? The answer to this problem might just be virtual language learning. Let's see how this mode of study can help your career!
Virtual Language Learning is Flexible and Time-Efficient
One of the things you will feel grateful for is not having to commute to class. With virtual language learning, you can even arrange to change the time of an already scheduled class, in case something comes up at work, without it impacting the teacher or any classmates too much since no-one has to travel to a meeting place.
In this way, you will not feel like you have to choose between your career and your language education, since you will have more time to fit both in.
Besides, you will feel much more relaxed and enjoy your class more simply by being in the comfort of your home, maybe even lying on your couch with your shoes off.
Take Virtual Learning Classes with Native Speakers
If you are learning a language with a large number of speakers, like Spanish or German, you may be able to find a native-speaking teacher, especially if you live in a large city. But if you live in a small or mid-sized city and are studying languages like Estonian or Vietnamese, it will be harder to find native speakers near you who can explain to you the nuances of their language.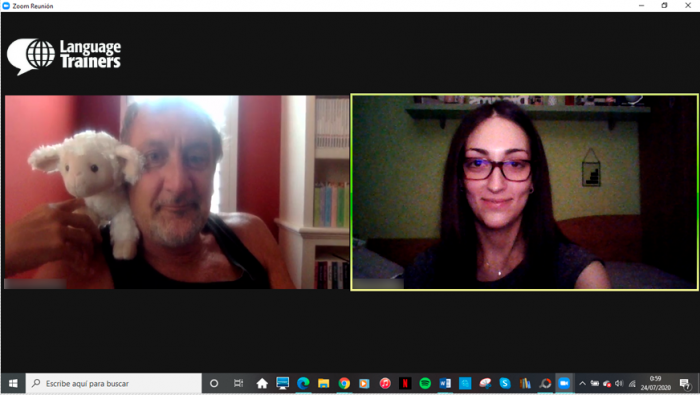 You may be able to find native speakers eventually, but it takes time. Use a virtual language school and let them connect you with an expert teacher, so you can use your time to fulfill your other commitments.
This can be easily resolved by taking virtual learning classes, since you can learn with a native tutor from any part of the world! In this way, you are more likely to develop your new skills faster.
Study With a Virtual Learning Community
One of the best things about virtual language learning is that you can connect with thousands of people from all around the world who are learning the same language. This is not only a great opportunity to socialize, but also to learn from those who are at a more advanced level.
Virtual open group classes are a fantastic way to interact with other students who share your passion for the language you are learning and understand it at the same level as you.
And if your goal is to get a job in another country, you can start networking with professionals in your target country by joining social media groups. In this way, you will learn vocabulary related to your field as you grow your connections.
Those who want to build their own community can start small and study with their friends, as well! For instance, you can arrange closed group classes with friends or workmates who are interested in learning the same language as you and start your language learning journey together!
Boost Your Resume With Virtual Language Assessment
Having a certification that proves your level of proficiency in a foreign language shows your grit and determination to achieve a long-term goal to potential employers. But if you also show that you learned that language online, you will prove that you know your way around a computer and know how to be organized. These are also very valuable skills in the job market that are sure to catch any recruiter's eye in your resume.
So, are you ready to boost your career prospects and learn a new language online? At Language Trainers, we offer virtual language classes tailored to meet your needs and requirements. Contact us to get started!
If you have already been studying a language for some time and want to know how you would fare in a virtual language assessment, take our FREE language level tests!