Top 4 Turkish Comedies for Laughing and Learning
Many Turkish movies have enjoyed both critical acclaim and popular success within Turkey. However, Turkish-language cinema hasn't quite infiltrated the English-speaking world. If you're traveling to Turkey, learning the Turkish language, or simply want a good laugh, check out the hilarious comedies on this list. You'll be entertained, you'll improve your Turkish language skills, and most important of all, you'll impress your Turkish friends and connections with your newfound knowledge of Turkish films.
Vizontele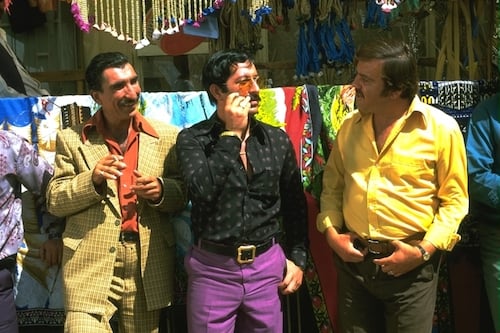 Image via BKM Online
With more than 3.5 million viewers in Turkey, Vizontele is one of the most popular Turkish movies of all time. It takes place in a small town in 1970, and is about a mayor who is determined to introduce television into his town — to the chagrin of an open-air cinema owner, who thinks that television will ruin his business. The conflict that ensues is both side-splittingly funny and culturally enlightening. Watch out for the most famous line of the movie, in which a naive villager asks if the people on TV can see those watching — "O da bizi görecek mi?" ("Will he see us too?"). Slip this line into conversation with your Turkish friends and you're guaranteed to get some laughs. Full review of Vizontele
Vizontele Tuuba
Vizontele Tuuba is technically the sequel to Vizontele, though the movies have very little in common. Vizontele Tuuba deals with a tough topic — the tumultuous political times of Turkey in the 1980s — with a healthy dose of humor. In it, you'll see a funny yet poignant account of Turkish life in the 1980s, especially that of Turkish villagers, which previously had not been ignored by mainstream media. Pay attention to the various pronouns that people use to show respect to each other: to refer to a stranger respectfully, they use sen, the plural form of siz ("you"). Likewise, instead of ben ("I"), they use biz ("we"). This can come in handy in formal situations or business meetings. Full review of Vizontele Tuuba
G.O.R.A.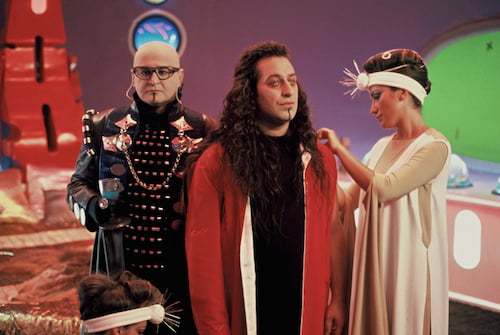 Image via kino.de
G.O.R.A. is one of the more absurd comedies that Turkey has produced: it's about a carpet salesman who gets abducted by aliens and finds himself falling for the local princess on another planet. It's chock-full of pop culture references, and even spoofs popular English-language films like The Matrix and The Fifth Element, so there's something humorous for everyone. You'll also learn plenty of Turkish proverbs, such as "Bunu işleyen kör oldu" ("The person who made this carpet became blind after finishing it"), which is a classic ploy that carpet salesmen use to sell their product. With over 4 million viewers, G.O.R.A. was extremely popular — all of your Turkish friends and connections are sure to have seen it, or at least know of it. Full review of G.O.R.A.
A.R.O.G.
A.R.O.G. is the sequel to G.O.R.A., and is equally absurd: the carpet salesman has returned to earth, but finds himself sent to the prehistoric past, where he lives amongst dinosaurs and cavemen. Like its prequel, A.R.O.G. is filled to the brim with inside jokes and cultural references. For instance, in Turkey, almost every taxi drivers carries a baseball bat for protection. At the beginning of the film, the protagonist stops a taxi for the sole purpose of stealing the bat to use in combat. Thus, if you're visiting Turkey and see a bat in the front seat of the taxi you're taking, don't be alarmed — as you learned in A.R.O.G., it's to be expected. Full review of A.R.O.G.
These movies are sure to elicit some serious laughs, as well as provide insight into the language and culture of Turkey. Make reference to them with your Turkish friends and connections, and you're bound to impress. If you'd like to see more Turkish film suggestions, click here. And if you're really serious about learning Turkish, consider taking personalized lessons taught by qualified native speakers: contact us to learn more about our course and package options.