Language Exchanges | The Very Best Websites and Apps: Part I
Every language learner's dream is to travel to a foreign language-speaking country, offering limitless opportunities to practice with native speakers. Indeed, being immersed in a country that speaks your language of study is an excellent way to improve your skills. Unfortunately, the reality for most of us is that a life of travel is not feasible. But that doesn't mean that it's impossible to have conversations with native speakers. In fact, with the ever-growing prevalence of language exchange websites and apps, it's now easier than ever to meet a variety of native speakers of almost any language.
However, with the overwhelming (and increasing) number of language exchanges out there, it's hard to know where to start. Here, we've selected some of our very favorite language exchange websites, which offer several useful and interesting features in addition to connecting you with native speakers.
1. Tandem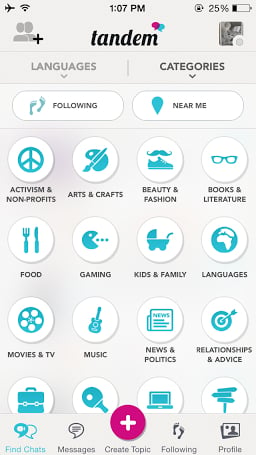 Tandem offers a variety of conversation topics to find a partner whose interests match yours.
Available exclusively for smartphone users, Tandem is a comprehensive and extremely useful app for the modern and connected language learner. Making an account is easy, and after you are approved by a moderator (for quality control purposes), it connects with your Facebook (though don't worry, it doesn't post to Facebook). This removes a lot of the hassle in creating your profile, as it automatically syncs with your photos, information, and interests that you've specified on Facebook. You can choose how much of this information is displayed to the public, so if you'd prefer to hide your work details, for instance, you can easily do so.
When you've made an account, you're prompted to create one or several "topics", which are what you'd like to chat about with your language partner. This effectively takes away the guesswork in conversation exchanges, ensuring that you'll meet somebody with similar interests as you. You can also simply scroll through the profiles of other users whose linguistic goals align with yours, and wait until somebody catches your eye. You can chat via text, voice, or video.
As with any online social interface, there is a risk of abuse and spam by robots. Given that Tandem connects with your Facebook account, the chance of this happening is low, as doing so would have to involve creating a fake Facebook profile, which would require a lot of effort. Even so, the community is (non-invasively) moderated, ensuring that it's a safe and comfortable place for language learners only.
Our favorite features: Connecting with Facebook makes it easy to get started. Further, you can see which of your friends already have accounts (to my surprise, three of mine were already connected). As mentioned above, filtering by interest adds some flair to the standard language exchange interface, and facilitates an engaging and mutually beneficial experience. Further, the app is very user-friendly and aesthetically pleasing, making it a joy to use.
Room for improvement: There is no way to use Tandem without a Facebook account, so those who aren't involved in social media can't use the app. Perhaps because of this, Tandem caters to a young, socially-connected crowd, which may not be appealing to some users.
Bottom line: Tandem is a creative, engaging, easy-to-use, and well-moderated community that genuinely helps people learn languages. For those who are already connected on social media, it's well worth a download.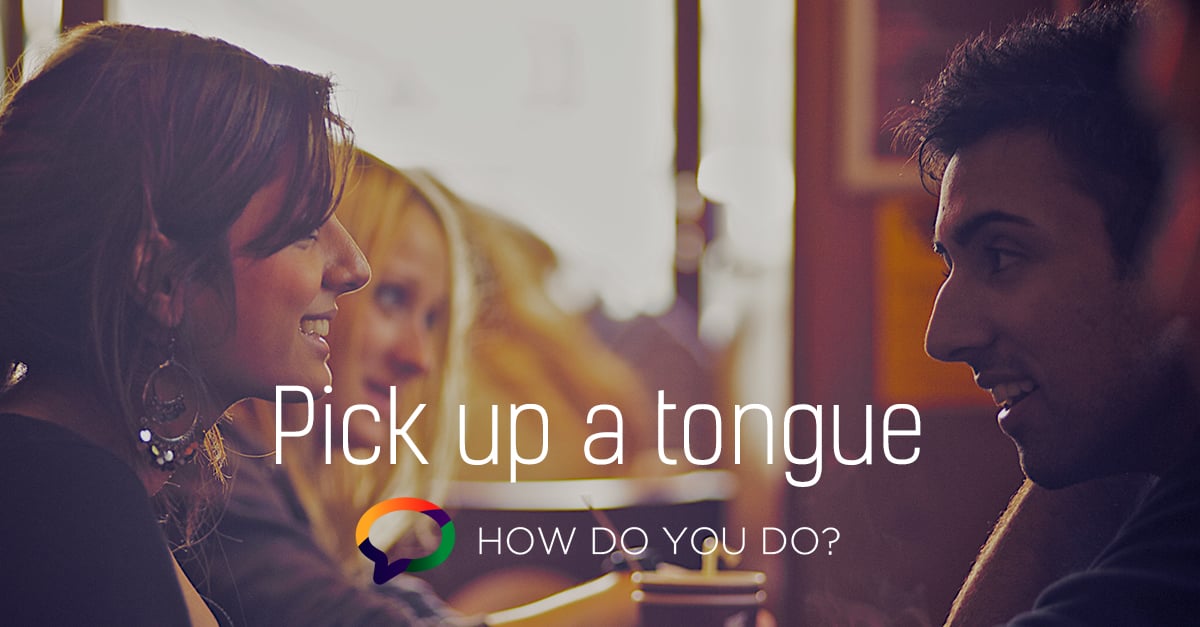 How Do You Do is a new and promising language exchange website that provides free text, voice, and video chat. When entering the site, the user is greeted with a clean and user-friendly interface. Creating an account is a quick and easy process, and you have the option of logging in with your Facebook or G+ info if you prefer.
How Do You Do is especially good for those who want to practice various European and Asian languages that are not as common on other language exchanges. For example, a good proportion of users on How Do You Do come from countries where Arabic, Turkish, Vietnamese, Thai, or Tagalog are spoken. This is remarkable, as language exchange websites are often dominated by Romance and Germanic languages.
The site offers one-to-one chats, and also has an ongoing group chat, which is active at nearly all times of the day. The group chat is a good chance for non-native English speakers to practice English – it's possible that other languages are spoken there for periods of time, but it's almost always in English.
Our favorite features: Using the voice and video chat was extremely easy and instant: no tech skills required whatsoever. In our experience, the users were very active; I received more messages on How Do You Do than on any other language exchange.
Room for improvement: It's hard to filter users by language – if you want, for example, to find a native Spanish speaker, you have to scroll through many irrelevant profiles before finding your ideal conversation partner.
Bottom line: How Do You Do is a new website and it shows great promise. It's a solid service now that excels at the basics, especially for those who speak non-Romance/Germanic languages; we're excited to see how it progresses in the future.
Language for Exchange has been around for six years, and is one of the more popular language exchange services. When signing up for Language for Exchange, it's easy to see the reason for its popularity: it has a vast amount of resources that go well beyond the basic conversation exchange.
For starters, it offers free video chat, which is useful for getting in some face-to-face time with your interlocutor. Second, it has a variety of connections with language schools around the world, which offer attractive discounts. Third, and most importantly, it offers a "language exchange abroad" service, which allows you to actually travel and stay (for free!) in the home of a foreign language speaker (as long as you offer your home to them as well). Think couchsurfing, but with a linguistic angle.
Our favorite features: Its members are active and engaged, and it offers a host of amenities beyond the typical language exchange, such as the homestay program mentioned above. It also has a specific forum for parents of minors who want a language exchange partner, ensuring that their kids stay safe while learning a new language.
Room for improvement: The message exchange interface looks outdated; it has the appearance of an old-school email service rather than a more sleek chat.
Bottom line: Whether you want to videochat with someone, you're looking to learn a language abroad, or you want to find a conversation partner for your child, Language for Exchange has something for everyone.
From creating your own conversation topics to finding a couchsurfing buddy, each of the above language exchange services offers something extra for the language learner. These features, combined with the basic premise of putting you in contact with native speakers, provides an opportunity to massively improve your language skills. Of course, to learn a language even faster, it's a great idea to take tailor-made language classes in addition to chatting with native speakers across the globe. That way, not only will you learn a host of new things from a qualified teacher, but you'll also be able to show off what you learned in class to your conversation buddy!