Paris Writers' Haven: Shakespeare & Co
To a bibliophile such as myself, there is no better place in the world than a building packed from floor to ceiling with books, preferably with secluded, cushiony areas where you can drink tea while you read.  While behemoths like Barnes & Nobles may try to mimic this effect, with their in-store coffee shops and plush armchairs, there is nothing like walking into a small, independent bookshop filled with new and used books, lingering, and getting lost among various floors of musty, chaotic bookshelves.  One of the most iconic bookshops in the world is Shakespeare and Company by the River Seine in the heart of Paris.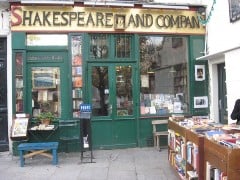 Shakespeare and Company has a long and romantic past, described by its previous owner, George Whitman, as "a socialist utopia masquerading as a bookstore."  Its original incarnation was opened in 1919 at 12 Rue de l'Odéon by Sylvia Beach, an American expat who founded Shakespeare and Company as a bookshop and lending library.  It quickly became the hub of the Modernist literary movement, welcoming expats from America, England, and Ireland.  It was a sanctuary during the early careers of the "Lost Generation," those American writers whose alienation and disillusionment following World War II fueled some of the 20th century's greatest literature: Ernest Hemingway, Gertrude Stein, Ezra Pound, and F. Scott Fitzgerald.  James Joyce wrote there during his self-imposed exile from Ireland, and when Ulysses was banned in the United States and Britain, Shakespeare and Company was quick to publish it.
The original bookshop was closed during the war due to German occupation of Paris, but in 1951 George Whitman, another American, opened another English-language bookshop called Le Mistral, near Place Saint-Michel, which he renamed Shakespeare and Company in honor of Sylvia Beach when she died.  Whitman's bookshop took in a whole new wave of writers, Beats and Postmodernists such as Allen Ginsberg, William Burroughs, Henry Miller, and Anaïs Nin.  Run by Sylvia Beach Whitman, George Whitman's daughter, since her father's death, Shakespeare and Company continues to be a crucial monument to Paris's literary scene, holding literary festivals, poetry readings, and writing workshops while still providing a place for young writers to live in exchange for work.
I made my pilgrimage there a few years ago when I was studying in Ireland; I'd written a novella for their annual Paris Literary Prize, and the entry fee was payable only by cash or PayPal.  Not having a PayPal account and not being computer-savvy enough to set one up, I decided the only thing to do was book a cheap flight to Paris for the weekend.  Shakespeare and Company, like all truly great bookshops, seemed bigger on the inside, with books lining the walls from ceiling to floor.  It had creaky staircases leading to alternate levels where there were dusty manuscripts, derelict typewriters, and windows looking out on the Notre-Dame Cathedral.  It was with enormous difficulty that I went back to my postgraduate degree in Galway rather than beg to be put up in one of their garrets, work in the shop during the day and write by night while drinking excessive amounts of wine and probably taking up chain-smoking.  To writers and litterateurs world-wide, Shakespeare and Company still represents the bohemian ideal of writing, working, and living in Paris.
What other famous bookshops can you think of?