Oddities: Welsh for "microwave oven"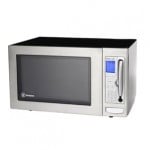 The Welsh language (known to its speakers as Cymraeg) is a language dating back to the 6th century, and is spoken daily in the small country of Wales, in the United Kingdom, by around 60% of people living there. While it is considered a minority language, the number of speakers continues to grow due to a number of measurements by Welsh authorities who want to promote the continued use of the language.
To many outsiders, the Welsh accent sounds slightly odd, as its phonology is quite rare – many of the sounds required for speaking Welsh do not exist in English. The written language is also a little frenetic at first glance, as it often seems to have not enough vowels (e.g. crwth – a traditional Welsh stringed instrument).
Wales is also the location of one of the longest and hardest-to-pronounce place names ever, on the island of Anglesey: Llanfairpwllgwyngyllgogerychwyrndrobwllllantysiliogogogoch.
Sometimes the qualities of Welsh combine to give wonderful results. The official Welsh word for microwave oven is meicrodon (don means 'wave', so it's a direct translation), but a more commonly-used everyday term for it is popty ping – popty means "oven" and ping is the noise it makes! It's certainly much more fun than saying "microwave".