Learning English with Games: A Fun Way to Improve your Vocabulary
With complex grammar rules and unpredictable sound-to-spelling rules, the English language can be daunting. But, is there a way to make the learning process more enjoyable? Of course, there is. If you want to take a break from textbooks while staying in touch with the language, learning English with games is the perfect solution.
In this blog, we'll be looking at all types of learning English with games, from classics like Hangman and Word Ladder to online word games similar to Wordle.
Are you ready to dive in? Let's go!
→Sign Up Now: Free Trial English Lesson With a Native Teacher!←
Free Online English Games
Who said learning English with games was impossible? Try these online activities and you will see that learning vocabulary while having fun it's not just possible, but fun and rewarding as well.
1.   Knoword
The best game to incorporate English vocabulary definitions while having fun.
Level: Intermediate or Advanced
How to play Knoword:
You have just sixty seconds to read word definitions and type the correct words.
Every time you provide a correct word, you get two extra seconds
If you don't know a word, click on Skip to move on to the next definition.
Keep practicing until you start to notice that your timing gets better and better.
2.   4 Pics 1 Word
The best app if you enjoy learning English with games based on attractive visuals.
Image from Pinterest
Level: Beginner to Intermediate
How to play 4 Pics 1 Word:
Look at four images. Can you see that all of them have something in common?
If you can't get what it is, you can ask for a hint.
Type the word you think is the right answer. If you're right, you get to the next level. Otherwise, try again!
3.   Visual Thesaurus Spelling Bee
An English spelling game that is truly challenging.
Level: Advanced
How to Play Spelling Bee:
You'll hear a word and you'll get one chance to submit the correct spelling.
As you progress, the app will produce a free, visual thesaurus of the words you spell correctly.
You will also be able to access the definitions of each word.
4.  Freerice
Enrich your vocabulary while helping those who need it the most.
Level: Intermediate and Advanced
How to Play Freerice:
You get a word and you have to provide its closest synonym out of 4 different options.
The game seems easy at first, but with 60 levels in total, the words get more and more difficult.
For every right answer you provide, the company donates 100 grains of rice to families in need.
Word Games Similar to Wordle
Just a few days after being online, Wordle revolutionized the way learning English with games is perceived.
Thanks to its simple but engaging design, people realized that learning English could be part of their everyday routine, something to do with the family over breakfast in just a couple of minutes.
Here are 4 word games similar to Wordle that you need to check right now.
5.   Online Scrabble
An online version of the classic word game that will put your vocabulary and spelling skills to the test.
Level: Intermediate and Advanced
How to play Online Scrabble:
You have to choose seven letters in the shape of tiles and use them to form words.
Each block bears a letter and number that tells you how many points you will get for using that particular letter.
All tiles touching one another have to form a real word in English.
6.    Dordle
Dordle is like Wordle, but with a unique twist.
Level: Advanced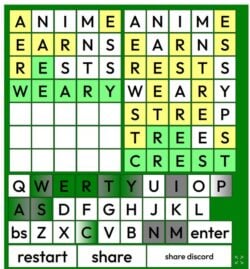 Image from Pinterest
How to play Dordle:
You thought Wordle was challenging? In Dordle, you have to guess two words at the same time.
You have seven chances for each word.
If a letter in your answer is in the word, but in a different position, it will be indicated in yellow. If it is in the right place, the tile will turn green.
7.   Wordplay
If you're looking for word games similar to Wordle but hate limits, this is the one for you.
Differences between Wordplay and Wordle:
With Wordplay, you can play as much as you like, not just once a day.
While Wordle is now owned by The New York Times and may be put behind a paywall soon, Wordplay's creators have promised it will continue to be free.
Wordplay is more educational than Wordle: it includes definitions, synonyms and rhymes for every correct answer.
8.    Waffle
A wordy puzzle that looks just like Wordle.
Level: Intermediate and Advanced
How to play Waffle:
Rearrange the letters in the grid to form English words.
You have a total of 15 attempts to make 6 horizontal and vertical words.
The tiles will turn into different colors to let players know whether they are in the right positions or whether they need to be shifted to another word.
Learning English with Games: The Classics
There is a reason why some classics never go out of style.
If you love learning English with games but online isn't your thing, these will make learning English a piece of cake. All you have to do is gather your family and encourage them to join the language-learning fun.
While these games have been around for decades, we have decided to explain the basic rules just in case there are a few centennials reading our blog!
9.   Taboo
The classic word game that makes everyone laugh and learn at the same time.
Level: Intermediate
How to play Taboo:
You are not allowed to use certain words while explaining the one on your card.
The aim of the game is to make your teammates guess the right word before they run out of guesses.
The team with the most points after all rounds wins the game.
10.   Word Ladder
A creative word game invented by the beloved Lewis Carroll (author of Alice in Wonderland)
Level: Intermediate and Advanced
How to play Word Ladder:
You have to connect two words, one on the top and one at the bottom of the equation, with a series of steps.
Each step should form a real word in English. If you can't guess the solution, you can ask for clues.
Every step should involve a letter change.
For example, you can turn 'head' into 'tail' in 5 steps: head, heal, teal, tell, tall, tail.
11.   Hangman
The only word game in which you can hang someone without getting in trouble.
Level: Beginner and Intermediate
How to play Hangman:
The first thing you have to do is draw gallows.
Then, one person (the giver) thinks of a word, phrase or sentence and draws a dash for every letter contained in the word.
The other player (the guesser) has to guess the word, one letter at a time, before they are hanged!
If the letter the guesser says is not in the word, then a part of the player's "body" is drawn. If the player can guess the word before all the parts of the body are drawn, then they win!
12.    Scattergories
The best word game to help vocabulary retention and boost your memory.
Level: Advanced
How to play Scattergories:
The goal is to come up with words that fit into a given category (Animals, Fruits and vegetables, etc.), starting with a given letter.
For example, if the letter is "M" and the category is "countries", some possible answers might be Mexico, Monaco, Morocco, etc.
When a player is done with their list, they shout "time's up!" and then everyone compares their lists.
If two or more players have the same word, it doesn't count. At the end of the game, the player with the most unique words wins!
So, what are you waiting for to start learning English with games? Whether you're looking for quick online word games, classics like Hangman or word games similar to Wordle, learning English doesn't have to be boring. Pick your favorite game and start learning today!
→Sign Up Now: Free Trial English Lesson With a Native Teacher!←
Using games and multimedia activities to learn English can help reinforce knowledge, stimulate creativity as well as boost problem-solving skills. At Language Trainers, we work with teachers who specialize in making their lessons enjoyable and fun by incorporating not only games but also music, and informal conversation into their teaching methods.
This is because our courses are designed to be interactive and engaging so that our clients can learn a new language while also having a good time.
If you would like to learn more about our customized English lessons, please visit our website or contact us for a free inquiry. We'll make sure that you get an answer within one business day!