5 Weekend Getaways if You're Living in London
Living and working in London can be an amazing experience. This vibrant city has plenty of things to do and places to see, and even better you are exposed to a multitude of cultures through cuisines, festivals, and events from around the globe. However, there are times when the hustle and bustle of Great Britain's capital can get to be a bit much. If you're feeling overwhelmed with London's fast-paced lifestyle, then it's definitely time to plan a weekend trip! Not sure where to go? Check out our five must-see destinations which are just a short train ride away from the big city.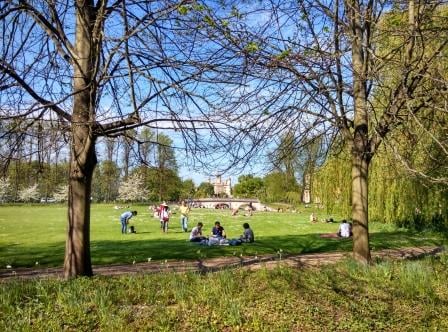 1. Cambridge
Cambridge is home to one of the world's most famous universities, and is just a two hour train ride away from London! This is the perfect place to have a day trip. You can picnic in one of Cambridge's many charming parks, take a tour of the university grounds, or go punting (ride in a flat-bottomed boat propelled using a long pole). This is a particularly refreshing place to visit if you love history and the idea of walking the same sacred grounds where the likes of Stephen Hawking, Lord Byron, and Alan Turing used to hang out.
2. Edinburgh   
If you're looking to escape for the entire weekend and not just a single day, why not head to Bonnie ol' Scotland? With a train ride from London to Edinburgh that's around 5 hours long, heading there on Friday night and returning Sunday evening is definitely doable. You'll be sure to fall in love with Edinburgh which is often touted as one of the most beautiful cities in the world. You can plan your trip around Scotland's Hogmanay (New Year's) celebrations, or try to visit during the annual summer arts festival in July and August if you want to experience art and culture!
3. Lake District
If you're more the outdoorsy type, Lake District might be the perfect weekend destination for you! You can spend a couple days soaking up some of the UK's most gorgeous scenery, or, if you're up for a challenge, tackle climbing England's tallest peak, Scafell Pike. Looking for something a little more chill? Check out Hill Top farmhouse where Beatrix Potter, the famed children's book writer, created memorable characters like Peter Rabbit.
Learning French before heading to Paris? Check out our free French placement test to see how your level measures up!
4. Paris
One of the big perks of living in London is that it's more than possible to do a weekend trip to the City of Love. With a train ride that's under three hours long, taking Paris by storm is quite feasible. I probably don't need to say much about what you should do while in Paris because this city speaks for itself. However, be sure to check out the beautiful Musée Rodin (Rodin Museum). The sculptures there are particularly breathtaking and a few were saved from destruction at the hands of the Nazis by The Monuments Men, so there's a lot of history there.
5. Brighton
If you're short on time but still need a quick getaway, Brighton is the perfect place for that! A two hour train ride will take you straight to this quirky seaside town where you will find plenty to do. Be sure to go on a sunny day as sunbathing on Brighton's stone beaches is a definite must. There's also plenty of cool street art, colorful houses, and eccentric shops, pubs, and cafes to check out! You'll definitely be spoiled for choice and may not be able to do everything you want in a single day. That's okay though, you can always plan to come back!
With so much to see and do around the UK, you'll find it easy to fill up your days off with fun trips outside the busy city of London. Every place has something unique to offer, whether you're traveling within Great Britain or heading to a nearby country like France. Wherever you go, be sure to take in as much culture as you can. Try new foods, explore new sights, and immerse yourself in what every city has to offer. When your time in London is over, you'll come away that much richer for all the experiences you garnered! Who knew you could accomplish so much with a simple weekend trip, right?
What are some of your favorite weekend getaways? Share with us what's on your list!