Na'vi – is it the new Klingon?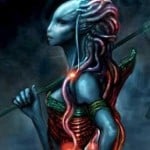 James Cameron's soon-to-be-released movie, Avatar – his first since Titanic – has been grabbing headlines mainly due to the incredible CG used throughout the movie to create the alien world of Pandora. However, I was even more interested to learn that he commissioned a language to be created to flesh out his movie even further, turning to linguistic expert Paul Frommer, a professor at the University of Southern California.
However, unlike the scratchy, clicky tongue of the "prawn" aliens in the recent movie District 9 (there is a very interesting essay written on this topic), there is rhyme and reason behind the language of the blue alien race known as the Na'vi. Frommer says of Cameron's request:
"He wanted a complete language, with a totally consistent sound system, morphology, syntax," Frommer says. And "he wanted it to sound good — he wanted it to be pleasant, he wanted it to be appealing to the audience."

Frommer spent years working on the Na'vi language, eventually teaching it to all of the principal actors who have to speak it, and making recordings for them to listen to on their iPods.
Source: NPR.org
Considering that the Klingon language from Star Trek is now famously offered as a course at some universities around the world, will Na'vi catch on in a similar way?
I guess that depends on whether the film is any good…