Moving to France from America: Your Definite Guide
It comes as no surprise that hundreds of US citizens Google tips on moving to France from America. For centuries, France has occupied a special place in Americans' imagination, an enduring fascination for a certain je ne sais quoi that the French possess, and that can be seen in their effortlessly chic style, their cultural sophistication, and the bohemian life of Parisians.  
Of course, it's not difficult to see where all this longing comes from. After all, France is without a doubt one of the world's most beautiful countries. From the sweeping beaches of the Atlantic coast to the rugged peaks of the Alps (not to mention a vibrant nightlife and delicious cuisine!) there is surely a lot to daydream about. 
For many Americans, the idea of moving to France from America conjures romantic visions of couples sipping coffee in a bohemian bar while being serenaded by street musicians. But if you're really thinking about relocating to France, there are a few (more boring) matters to take into account. Is it cheaper to live in France than in the US? How can I move to France for a year to see if I like it? While we will answer a lot of your most burning questions about how to move to France as an American throughout this article, if you need precise information the best thing you can do is find your closest French consulate here.
→Sign Up Now: Free Trial French Lesson With a Native Speaker Teacher!←
1. Decide Where to Live
France is a vast and diverse country. So diverse, in fact, that it can be called a land of contrasts. While it's perfectly fine to yearn for the hustle and bustle of Paris, remember that France is also known for its verdant, idyllic rural communities, its mountain resorts, and its beautiful coastline. Even for those who like city life, there are plenty of options besides Paris, such as Marseille, Lyon and Toulouse. If you're not sure where you want to go just yet, you can compare the cost of living in different French cities on this website. 
2. Get the Appropriate Visa
Moving to France from America is not difficult, but you do need a plan. Before you ask for a consulate appointment, you need to decide what it is that you aim to do during your first year in France and what kind of visa you need to do it.  
Here's an overview of the most popular types of visa that will allow you to move to France as an American:
Spouse Visa
Do you already have a Frenchie or other EU citizen on your arm? If that's the case, you'll be able to get a 12-month permit. All you have to do is register (for free!) at the Immigration Office within the first three months after you've arrived in the country. 
Work Visa
If you already have a job offer, you can have your work contract approved by the authorities at the French Labour Ministry. Depending on the industry you work in, your employer may have to explain why they're hiring you and not a French person, but in practice that's just a formality. If you're bringing your family with you, you'll need to ask your employer to start a file for them as well.
Visitor Visa
If you want to stay in France for more than three months but have no intention of finding a job (or a French spouse!) you can get a permit by proving you can support yourself in France, and that you have a certain level of assets back at home. 
Student visa
The good news about the student visa for American students is that, at about $50, the fee costs around half as much as other visas, but mind you: getting one is no walk in the park.
 You'll need a heap of documents from Campus France, enrolment proof, guarantees of financial backing, lots of forms, and even an airline ticket. 
3. Find a Job in France
The first thing you have to do if you want to get a nice job in France is creating a solid Curriculum Vitae (CV).  Before you apply for the position of your dreams, however, make sure your resumé is up-to-date with all your current experience, relevant to the job you're applying for, and above all, translated into French. Also, bear in mind that the French usually expect a cover letter as well which —you guessed it— also needs to be written in French.
When it comes to the actual job hunt, there are some relevant job search websites that will help you along the process: 
The most nerve-wracking stage of the job process, of course, is attending job interviews, whether they are online or in person. Typically, an American can expect to attend up to five interviews before they find the job of their dreams, so the first thing you will need is patience. However, if you want to boost chances of success, follow the tips below: 
Do some research into the company you want to join

Don't be late. The French value punctuality above everything else.

Address your interviewer as

Madame

or

Monsieur

.

Use

vous

instead of the informal

tu

.

A kiss on the cheek is expected in social contexts, but is not common in an interview setting. Go for a nice handshake instead.
4. Start Learning French
While it is normal to hear English in tourist areas, attractions, restaurants and hotels in Paris, elsewhere in the country the position of English is far weaker than in big cities. According to recent statistics, just under 39% of the French population report being able to speak English to some degree.
As a result, if you want to move to France from America, the first thing you'll need to do is learn French. Lucky for French learners, gone are the days in which learning a new language involved strenuous hours of textbook exercises. Today, companies like Language Trainers offer private and group courses both in online and in-person form so you achieve a perfect accent by getting lots of exposure to the spoken language. All you have to do is tell your native teacher what your learning objective is, and they will come up with a personalized course specially designed to suit your current level and learning style.
It might take a while to get to the level you want, but for an expat, learning French will make the difference between being an isolated visitor or a fully adapted citizen. Contact us now for a free lesson and make sure you're not left out from the vibrant French culture or miss out on enriching social and formative experiences. 
5. Start Looking for a Place to Rent
Like everywhere else, rent prices in France vary depending on where in the country you're renting. While costs can seem alarmingly high in the capital, they are usually a lot more accessible in more far away areas. On average, you will find that the price for a one-bedroom apartment in the outskirts of a city is around 500 EUR (566 USD). In the heart of Paris, however, this type of accommodation usually starts at 1,000 EUR (1,120 USD).
Another thing to consider is when to look for rentals. The ideal time to look for an apartment in France is between May and July, as most landlords and real estate agents go on vacation in August. Also, if you want to relocate to a university town, September and October can be a tough time as this is when students sweep up most of the available (and accessible!) housing options. 
6. Open a Bank Account
While different banks require different paperwork for setting up an account, in general, the requirements are:
a valid form of identification

proof of address (a copy of the rental agreement will do)

an employment contract or financial proof (e.g., recent paychecks)

sufficient funds for the first deposit
France is full of large, trustworthy banks that have multiple branches all across the country.
The main options for international residents are: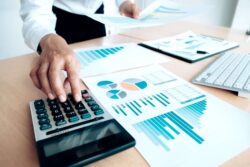 BNP Paribas
Crédit Agricole
Société Générale
Caisse d'Epargne
Credit Mutuel
Most of the top banks in France charge a minimal annual fee that ranges from 60 to 70 EUR (67–70 USD) and includes basic services such as bank transfers, an international debit card, and cash withdrawals.
7. Get Health Insurance
If you want to move to France from America, there is one more thing you're going to need besides a visa —health insurance. French law dictates that all foreigners who reside in the country must be medically covered within one month of arrival.
The good news is that most expats are eligible for the local universal public healthcare system, called Protection Universelle Maladie (PUMA). However, if you want to opt for a top insurance company, then you might want to hire a private French health insurance provider.
Alternatively, American residents choose to take out global health insurance providers such as Allianz and Cigna Global. 
No matter which of these options you go for, sorting out your and your family's health insurance coverage in advance will give you peace of mind while you are busy solving other matters such as housing and job hunting.
FAQs About Moving to France from America
Can I move to France without a job?
Yes, you can move to France without a job. You can either apply for a student visa, a spouse visa, or a visitor visa. You can also contact your nearest consulate office to inquire about other options.
How much does it cost to move to France from the US?
The average cost of living in France depends on a few different factors such as where you live in the country, whether you live in the city center or in the outskirts, etc. Paris is consistently ranked as one of the most expensive cities in the world. You can check an average sample for a monthly budget for a couple living in France here. 
Can an American retire in France?
Normally, it is possible for North Americans to gain long-term residency and retire in France, but be prepared to provide plenty of documentation. Current requirements include proof of means of income, a letter promising not to seek employment in France, and a long-term residence form.
What are the pros and cons of living in France?
The advantages of living in France include plenty of accommodation options, a slower pace of life, accessible and convenient urban transportation, and a solid health care system. On the downside, the cost of living can be high and expats are usually required to fill in a strenuous amount of documents. 
Can I get a job in France without speaking French?
While there are English-speaking positions in international companies, France is known for having a relatively low level of English, with only two-fifths of the total population being able to use this language. If you want to have a fulfilling professional career in France, the best thing you can do is start to learn French right now.
→Sign Up Now: Free Trial French Lesson With a Native Speaker Teacher!←
Want to boost your French level faster than you thought possible? Contact us now and we'll pair up with a native teacher so you can learn at your own pace with a tailor-made syllabus. If you send us a message now, we'll get you a free trial lesson so you can see why students love our flexible, fun teaching approach!