4 Amazing Strategies to Learn Languages
Learning a new language can be challenging, but I can assure you one thing: it doesn't have to be boring. And one of the best ways to make learn languages while enjoying yourself is to learn through social activities. That way, you not only get to practice your new language skills, but you also get to meet new people and make friends.
→Sign Up Now: Free Trial Language Lessons With Native Teachers!←
So how can you find opportunities for genuine conversation?
1. Join a book club in your target language.
Joining a book club is a great way to learn languages. Not only do you get to read books in your target language, but you also get to discuss them with other members of the club. This provides an opportunity for authentic interaction and helps you improve your speaking skills. In addition, book clubs are a great way to make like-minded friends and expand your social network.
Mirta, an English learner from Rosario, Argentina who is currently reading Little Fires Everywhere, by Celeste Ng, says: "I'm really enjoying the book, and it's been great to dissect it with other members of the club. It's a great way to improve my English because, eager as I am to discuss the latest twists and turns and share my views and interpretations with other members, insecurities about my grammar and pronunciation take second place."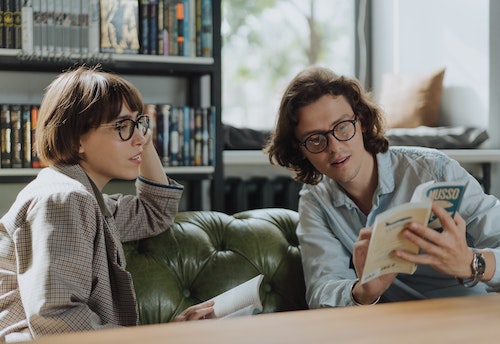 And then, of course, there's the reading of the book in itself. By finding a book that you really feel drawn to, you can make great progress in mastery of vocabulary and grammar structures in the target language, while also gaining a new appreciation for literature.
"Little Fires Everywhere is a fascinating book," Mirta explains. "It covers a lot of current issues such as motherhood, race and class in America, but it's also a page-turner with plenty of twists and turns to keep you hooked, which makes it a wonderful choice for a book club".
2. Learn languages at language exchange clubs
Language exchange evenings are another excellent way to meet people and practice your target language in a relaxed and fun setting. These events usually take place in bars or cafés, and they provide a rare opportunity for you to chat with native speakers of your target language in a friendly and informal environment. In addition, since they are usually organized around different levels, they give you the chance to make friends with people who are at the same learning stage as you. This can be highly motivating, as it allows you to see that progress is possible, that everyone makes mistakes, and that you are not alone in your language learning journey.
Besides, these evenings usually include trivia games and group activities that will get even the shiest people to leave their table and talk to other attendees. John, an Italian learner from London who describes himself as a hopeless introvert, says: "I was really nervous about attending my first language exchange evening, but as soon as I got there I realized that everyone was in the same boat. The icebreaker games were great fun, and I quickly made some friends. I'm now a regular attendee, and I've even started to help out with the organization of the events."
3. Volunteer in your target language
One of the best ways to make friends while learning a language is to become a volunteer. When you volunteer, you're automatically thrown into a situation where you have to communicate with people. And since you're doing in your target language, every new interaction will be a learning opportunity.
This is a great way to combine language learning with an enriching social experience, and a way to meet people who care about the same things as you. Whether it's "Spanish Conversation Club for International Students", "Mentoring Migrant Children" or "Language Exchange at a Local Library", there are lots of activities that you can join or even organize yourself.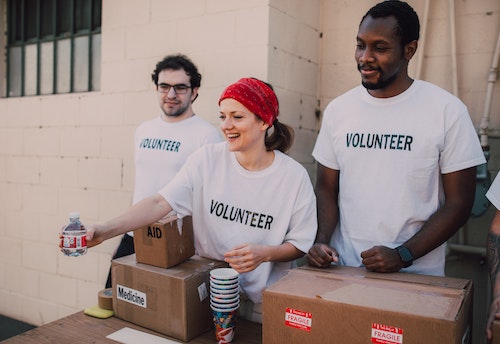 Anne, a French student from Lyon who is learning Portuguese, says: "I volunteer at a Culture Integration Program for Portuguese Expats, where I help newcomers to learn about French culture and society. It's a great way to meet people and practice my Portuguese, while also doing something that feels relevant, something that I'm passionate about."
So, did Anne make new friends while working at the Program? Did she learn languages while she was at it?
"Well, to be honest with you, not only did I make dear friends there, but I also met my partner!  So, I guess you could say that volunteering changed my life in more ways than one. Besides, since he isn't very fluent in French yet, we speak in Portuguese almost all the time, which is great for me!"
4. Learn languages by joining an online community
In today's globalized world, it's easier than ever to connect with people from all over the globe, and this is especially true if you want to learn languages while engaging in social activities.
With social media and online forums, you can connect easily with people who enjoy the same kind of things as you while putting your language skills into practice. Instead of spending hours on forums using your own language, you can look for online communities where your target language is spoken and kill two birds with a stone.
Martin, a programmer from New York, is happy to have found a way to combine his Spanish learning with his devotion to Japanese entertainment. On Foro Anime, he found endless threads dedicated to some of his favorite anime shows such as Naruto and Attack on Titan, as well as a general room where people discuss the latest news about the anime world, and write reviews, or ask for recommendations. He had never imagined it was possible  to learn languages while doing something you truly love.
When asked whether Foro Anime helped him to learn Spanish, Martin said: "I've been using the website for years now, and I've definitely noticed an improvement in my Spanish. In the beginning, I would just lurk around and read other people's comments, but now I participate actively in the conversations. It's a great way to learn new vocabulary and practice my grammar. But the best thing about it is that all this improvement happens without me noticing. Since I truly care about the things I read and write about in the forum, the learning part just happens in a natural way, which is great for someone who tends to get anxious about formal studying".
Doing social activities is a great way to learn languages while making new friends, and it will surely will help you to gain fluency more quickly while doing things that are both fun and enriching.
Since there are many different types of activities, communities that you can join, and language learning websites you can visit, the key is looking for one that suits your interests and personality. That way, you will spend hours using the target language without even noticing.
→Sign Up Now: Free Trial Language Lessons With Native Teachers!←
At Language Trainers, we are very aware of the importance of social learning and the fact that people learn languages faster when they are allowed to explore their passions. For this reason, we specialize in customized lessons that are designed around every student's preferences and learning goals. All you have to do is send us a quick message, tell us about you and what language you would like to practice, and we'll match you with a native teacher for a tailored trial lesson! What are you waiting for? Contact us now and continue to learn languages while having fun!