Beginners Norwegian Course Outline
Make new friends and learn a new language with this Open Group Beginners Norwegian Course. Study in a virtual classroom from the comfort of your home (or anywhere else) alongside learners with the same starting proficiency level and enthusiasm to speak Norwegian as you. Under the professional guidance of a native teacher, learn the foundational knowledge to speak with your classmates in Norwegian. Discover the common words and grammar for everyday conversations while taking part in fun and interactive online group exercises geared towards your interests and goals. For this, you will use the book The Mystery of Nils, which aims at teaching beginners through storytelling. Throughout the course, you will focus mostly on the Bokmål dialect, but your teacher will also make reference to the Nynorskvariety and other dialects of spoken Norwegian when appropriate. If you want to delve deeper into the other varieties, contact us to arrange a one-to-one course that meets your specific needs!
Lesson 1
You will learn greetings; to introduce yourself and another person; to ask somebody where they are from/to say where you are from; to say goodbye and thank you; to ask and respond to the question "how are you?"
Lesson 2
You will learn the alphabet; to spell your name; to conjugate the verb å være (to be); the most common question words: who, how, when, where; to say your profession.
Lesson 3
You will learn to ask somebody what they do for a living; to conjugate the verbs arbeider (to work), sitter (to sit), and gjør (to do); sentence order, pronouns, and verbs; to express that you don't understand something.
Lesson 4
You will learn numbers (0-10); how to ask somebody's age and how to say your age; the most common foods; the days of the week; gendered nouns.
Lesson 5
You will learn how to form questions; how to use two verbs in a sentence; other ways to say thank you; how to form negative sentences; to use den/det (this/that).
Lesson 6
You will learn to talk about objects in your home; how to present yourself; how to make small talk.
Lesson 7
You will learn big numbers; personal pronouns; to talk about objects belonging to someone else; more masculine and feminine nouns; to use the verbs å like (to like) and å elske (to love).
Lesson 8
You will learn to tell the time; the days of the week; reflexive verbs; more about describing something belonging to someone else; the past tense.
Lesson 9
You will learn to talk about your daily routine; to describe objects in the kitchen; how to describe something as a plural; to use noe (something) and noen (someone); how to tell someone what to do.
Lesson 10
You will learn to talk about where things are located; adjectives; prepositions; definite articles (plural form); more about sentence structure.
* You do not need to buy a textbook to complete your course. Your teacher will share their materials (excerpts from textbooks, audio files, videos, etc.) with you during the classes using screenshare. Your teacher may also recommend other textbooks and grammar books to help supplement or continue your studies, but Language Trainers bears no responsibility for your decision to make such a purchase.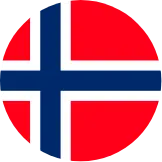 Our Norwegian Teachers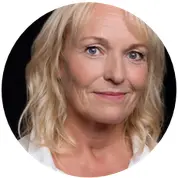 Eva
Eva qualified in administration and finance, but after securing her first job at a shipping company in her native Norway, she quickly discovered her talent for languages. After working as an English-Norwegian language consultant, Eva pursued her love of acting while working as a translator, developing her knowledge of how languages convey culture and relate to one another. She started teaching in 2001, initially as a drama teacher, and later transitioning to languages, teaching Norwegian to students of all ages from Beginners to Intermediate levels. Her greatest passion for teaching lies in the joy she feels when her students gain the confidence to begin expressing themselves freely in Norwegian. She considers it a privilege to share not just her native tongue, but her home culture, and she loves guiding her learners to understand and embrace it. Eva is a person of many talents and hobbies—all of which she loves to discuss in detail in her online group classes. She has traveled extensively, not only while working as a guide and manager aboard Scandinavian Seaways, but also as a freelance actor throughout Europe, as a translator and script consultant in Barcelona, and she currently lives in London. Her assorted résumé includes working as a voice-over artist, an event organizer and language consultant for Disney, and a children's and young adult writer. It will come as no surprise that Eva is a huge lover of movies and the theater, but she is also passionate about being outdoors, taking every spare opportunity to enjoy some hiking, cycling, and swimming. By combining her multitude of talents and hobbies, her experience working with and teaching languages, and her passion for helping people to succeed, Eva is one of our most versatile trainers. As much as Eva delights in sharing her culture with you, she wants to hear you discuss your own experiences—in Norwegian, of course—even more. So, expect a highly social experience on this course in which Eva will use online resources to stimulate interesting and fun conversations between you and your international classmates.
Please note that Language Trainers has many highly qualified and experienced native language trainers who teach courses for us. Your specific teacher may be one of those profiled here on this page or may be a different, similarly qualified teacher.