Beginners Greek Course Outline
If you want to start studying Greek in a fun and multicultural environment, this Open Group Greek Course for Beginners is ideal for you! Your native teacher will introduce you to all you need to know to get by in a trip to Greece. The best part is that you will practice in real-life situations with other learners from all over the world who are at your same level of proficiency. You will begin with the basics, like the alphabet and the greetings, and you will build up on that to the point of being able to order food in Greek, ask for directions, and even talk about past events. Get started today and take your Greek skills to a whole new level in only ten classes!
Lesson 1
You will learn greetings; to introduce yourself; the Greek alphabet, vowels and consonants; common Greek expressions; the accents on letters
Lesson 2
You will learn to ask about the location of an object; how to formulate more questions; to use the verb to be and personal pronouns; how word order and punctuation work in Greek
Lesson 3
You will learn to order a snack; to ask and answer questions; to use the possessive adjectives: my, your, his, her, its, our, your, their; the indefinite and definite article
Lesson 4
You will learn vocabulary related to shopping; the verb to have; numbers 1-20; the endings of neuter nouns, singular and plural forms
Lesson 5
You will learn vocabulary related to traveling; to ask for and give directions; to use verbs in the present tense, such as to buy, to ask, to be late, to travel, to love
Lesson 6
You will learn to say the time; numbers above 20; to understand a narrative and airport notices; to formulate negative sentences
Lesson 7
You will learn to talk to the receptionist at the hotel; to use the future tense of verbs; the days of the week; masculine and feminine nouns
Lesson 8
You will learn to talk about your family; about Greek names; the uses of cases in Greek; the months of the year and the seasons
Lesson 9
You will learn to say which activities you want to do; to express a purpose; to utilize irregular verbs; how to use uppercase and lowercase characters
Lesson 10
You will learn to talk about events; to read and extract information about different activities and events; about neuter nouns; to use the past tense
* You do not need to buy a textbook to complete your course. Your teacher will share their materials (excerpts from textbooks, audio files, videos, etc.) with you during the classes using screenshare. Your teacher may also recommend other textbooks and grammar books to help supplement or continue your studies, but Language Trainers bears no responsibility for your decision to make such a purchase.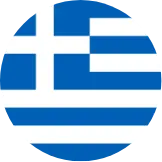 Our Greek Teachers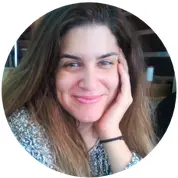 Maria
Maria is a Greek teacher with a passion for literature and history. Having studied Greek culture in college, she brings all her knowledge about her country to class, offering students unique insights into the fascinating Greek traditions and beliefs. Maria loves technology and has attended several seminars on digital education and teaching methodology. As a result, she always makes sure to use videos, audio recordings, e-Books, and images when planning her lessons. Her passion for languages is not limited to her mother tongue. Maria is a polyglot, since she is also fluent in English, French and Spanish, and has some working knowledge of Italian. Her multicultural background is one of the reasons why most of her students always bond with her, no matter their language or nationality. Maria is currently in the process of receiving her certification in Teaching Adults from the National Kapodistrian University of Athens. This means that she will have all the necessary tools to prepare engaging Greek classes for you and your classmates. If you are looking for a passionate Greek tutor with a deep knowledge of her culture, Maria is ideal for you!
Please note that Language Trainers has many highly qualified and experienced native language trainers who teach courses for us. Your specific teacher may be one of those profiled here on this page or may be a different, similarly qualified teacher.