Victoria Beckham and children learning sign language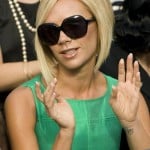 Following on from a recent post on sign language over cellphones, it seems that even A-listers are hopping on the sign language bandwagon. Pop 'singer'-turned-fashionista Victoria Beckham – perhaps more famously known for being the wife of footballer David Beckham – has decided to learn sign language.
Mrs Beckham and her 3 children – Brooklyn, Romeo, and Cruz – have taken up sign language as they have family friends who are deaf, and they want to be able to talk to them more easily. I applaud Victoria Beckham for encouraging her kids to take up sign language. Learning these things from a young age will help it stick with them for the rest of their lives!