"The Stuff That Actually Works": A Review of Transparent Language Online
Language-learning software, websites, and apps are everywhere; the market is chock-full of programs that boldly guarantee "fluency in three weeks" or show you the alleged secret to "learning language like a child". Most of the time, however, their promises turn out to be empty, and you end up spending unnecessary time and money instead of improving your language skills. In the midst of the clickbait and dramatic claims, however, is a language-learning program that lives up to its claims. The Transparent Language website states, "We create the stuff that actually works", and they're right. Indeed, Transparent Language Online doesn't rely on gimmicks because it doesn't need to; it's an honest, straightforward, and extremely comprehensive language-learning tool that will be of great service to language learners of all levels.
Lessons packed with real-life utility
With over 100 languages available, Transparent offers something for everyone. Depending on the language, lessons begin by teaching you some crucial grammar fundamentals, such as introducing you to the alphabet. After that, lessons center around common themes, such as finding an apartment or asking for help, which are likely to be encountered by language learners.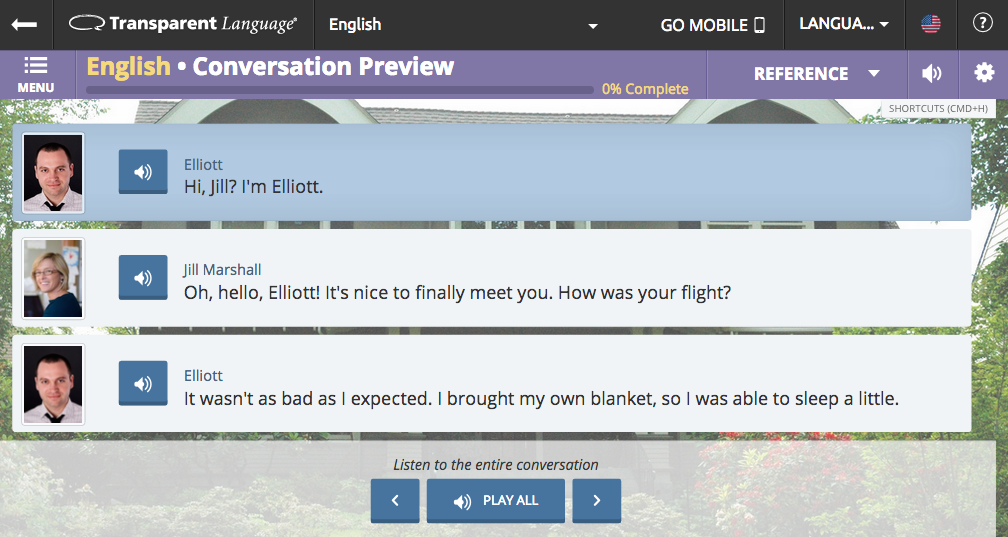 After listening to the conversation as many times as you'd like, you review each element of the conversation in a series of engaging, thought-provoking exercises. These exercises take a variety of forms, such as matching and reading comprehension. The activities are interactive and fun, ensuring that the user doesn't lose interest.
Our two favorite activities were pronunciation practice and dictation. In the pronunciation practice exercise, Transparent Language Online records your speech, and then gives you the chance to compare what you've said to a native speaker. This is very useful in pinpointing the exact sounds and rhythms that learners struggle with. Dictation involves writing down what you hear somebody else saying. This is useful especially for languages like English, in which matching sounds with letters is not always easy or straightforward. And don't worry — for beginners, there's an easy mode (called EasyTyping™) in which the program helps you spell the words correctly.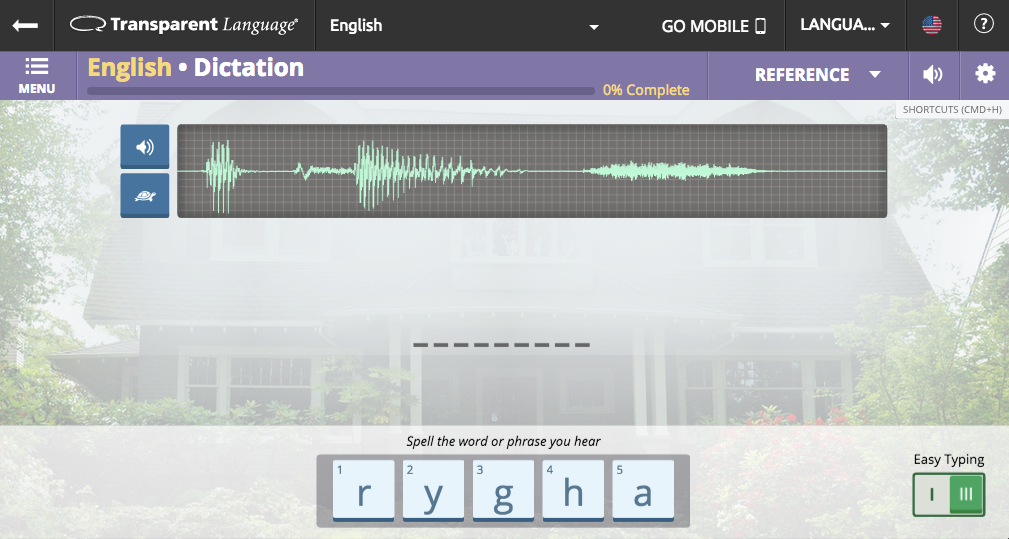 Finally, Transparent goes beyond simple vocabulary items: it offers activities such as Cultural Awareness and Grammar Tips. These are particularly useful when you're living (or planning to live) in a culture that's starkly different from your own.
Perfect for those with a busy schedule
Lessons are bite-sized, but give you more than enough to chew on: in our experience, they lasted from 20 to 45 minutes, depending on your skill level. We found this timeframe to be ideal, as you have enough time to review the vocabulary thoroughly while not being redundant. It also makes Transparent an ideal tool to practice with when you have a few spare minutes before bed or between classes.
One suggestion: we'd like the option to move through certain activities faster. Especially when reviewing words and phrases that you've already got down pat, it can be tedious to wait for the program to fully present each activity. It'd be nice to have a "Fast Mode" option, in which you can bypass certain time-consuming features (e.g., having each word read out loud) if you're already confident in your knowledge of the vocabulary in question.
Reference section with a host of useful information
In addition to the lessons themselves, Transparent Language Online courses come with a Reference section, which is a treasure trove of information for language learners of all levels. Absolute beginners can play around with the alphabet, learning how each letter is written and pronounced (as mentioned above, this is especially useful for languages with non-Roman characters). Language geeks can nerd out in the grammar section, which gives detailed information for a vast array of grammatical features, even advanced ones like reported speech and hypothetical conditional clauses.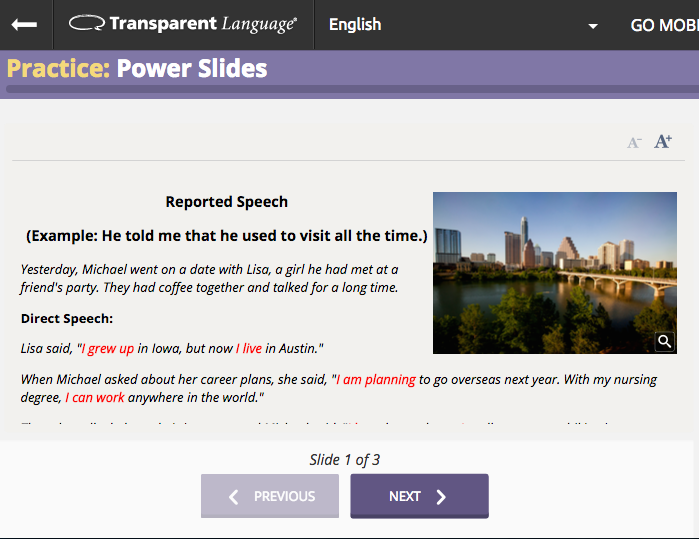 You can also use the reference section to learn supplemental vocabulary. As always, you can hear each word pronounced by a native speaker. My favorite tool is the turtle button, which you can click on to hear the word spoken more slowly. This can be a godsend especially for beginners, who will benefit from the chance to clearly to hear each and every sound.
Track your progress & review what you've learned
A motivating feature of Transparent language courses is that they monitor your progress by the number of words that you've learned. Of course, these refer only to official vocabulary items — the actual number of words you know will be even higher. But it's still rewarding to watch the number go up after each lesson.
The word counter has the added feature of letting you know how "fresh" your vocabulary is — that is, how recently you've reviewed it. When some time has passed since you've last reviewed a particular set of vocab, it lets you know, so you can make sure that none of the words you've worked so hard to learn end up slipping through the cracks.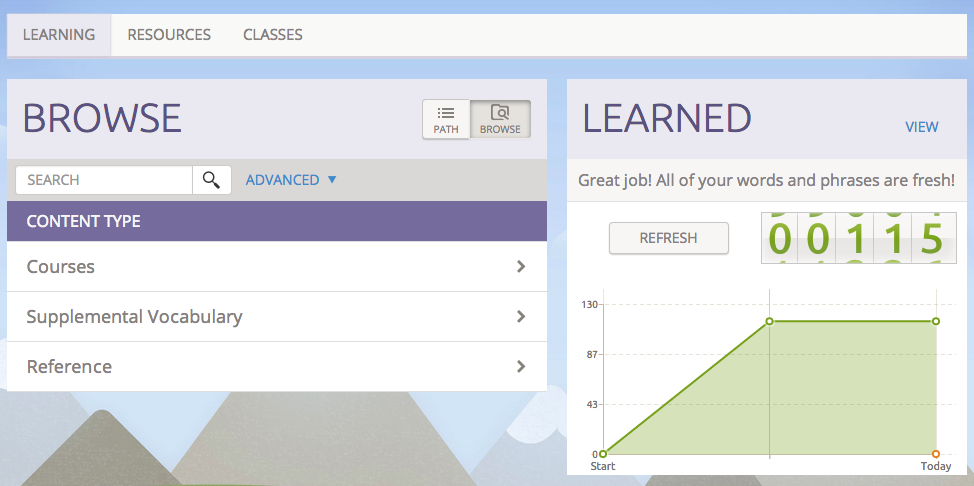 Ultimately, Transparent Language Online offers language learners an excellent chance to improve their skills right at home. They strike an impressive and often elusive balance: their lessons are short enough to fit into your daily schedule, but comprehensive enough to lead to real progress in your language skills. Of course, the program isn't meant to be a complete replacement for language classes taught by a professional, but it works perfectly as a supplement to your language courses when you have some free time. Overall, we highly recommend Transparent Language Online to learners of all levels, from absolute beginners who haven't even learned the alphabet to experts who want to maintain their skills.
Transparent Language Online is available for over 100 different languages; see their website for more information. Interested in signing up? You can try it any time with their free 7-day trial.