Stephen Fry to host new show on language for BBC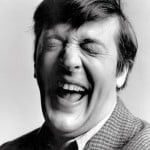 More often known nowadays for his love of gadgets (the iPhone in particular), Stephen Fry has got to be one of my favorite British comedians. His material is always very clever, and his passion for language shines through. He was a star of A Bit of Fry And Laurie, Blackadder, Jeeves & Worcester, and several other great British comedy series. The English panel show he hosts, QI ("Quite Interesting"), is worth checking out if you ever get the chance.
Recently it was reported that Fry would be making a series of shows about the English language, to be shown on BBC2.
This seems like a must watch to me! How long until it's shown in the US?