'Los Suns' court a political message this year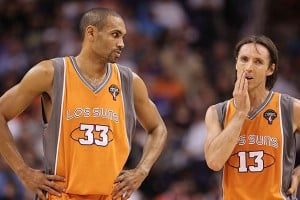 Every year around the Cinco de Mayo holiday, the Phoenix Suns basketball team don jerseys emblazoned with "Los Suns", to celebrate the NBA's "Noche Latina" as well as honor the Latino community of the city, the state, and the country as a whole.
This year, however, in the light of the recent Arizona state law that allows police officers to stop and detain anyone if they have a 'reasonable suspicion' that they may be an illegal immigrant, a Suns marketing gimmick became something of a political message in support of those who believe the law endangers civil liberties, encourages racial profiling, and further alienates foreigners on American soil.
Not everybody was in support of this show of solidarity for the state's Spanish-speaking brothers and sisters, however – some fans tore up game tickets, wrote letters to the media, and angrily blogged about how politics should stay out of sports; even though the translated team name on the jersey is an annual tradition.
What few people seem to notice, however, is that the rebranding contains both the Spanish and English languages, much like the state of Arizona – after all, if it were wholly Spanish, it should read "Los Soles". It's strange that such a fuss can be kicked up about one definite article, but in the light of the recent state law, it is hardly surprising!