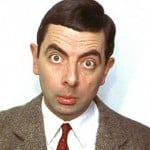 I hope I'm not showing my age here, but when I was younger I stumbled across a British TV show called Mr Bean, starring Rowan Atkinson. The original TV show followed the story of an eccentric, hapless, mute man getting himself into scrapes whilst attempting to do everyday things like cook a roast dinner, go to church, or paint his apartment. A concept that was interesting to me at the time was the fact that Mr Bean never spoke – and if he did, it was an easily distinguishable sound like a scared shriek, an unhappy groan, or an elated "whee". This gave it an international quality, so even though I generally don't 'get' a lot of British humor, I still found myself laughing along.
Nowadays Mr Bean is considered a little old-fashioned and silly (especially after the 2 pitiful and unfaithful attempts at Hollywood movies, Bean and Mr Bean's Holiday), but I still remember the show as my pre-pubescent self saw it – hilarious. But what has this got to do with languages, you may be asking, besides the fact that Mr Bean barely spoke a word?
Well, today I learned that the Mr Bean theme tune – a short choral piece sung in Latin – is not simply text taken from a hymn or Latin text as I'd originally thought. The lyrics change depending on how far through the show you are, and translate as follows:
ecce, homo qui est faba – "Behold, the man who is a bean" (intro)
finis partis primae – "End of part one" (before commercial break)
pars secunda – "Part two" (after commercial break)
vale, homo qui est faba – "Goodbye, man who is a bean" (end)
You can hear the intro for yourself on this clip, taken from the intro:
What a quirky little tidbit in the show! I wonder if the creators thought many people would pick up on it?