Avatar fan seeks Na'Vi-speaking girlfriend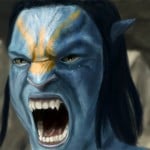 Source: newkerala.com
Following on from previous posts on the Na'Vi language from the massive box office hit Avatar (and my subsequent disappointment after watching it that, having spent all that effort creating an entire language, it wasn't a larger part of the movie itself), I suppose this was always going to happen at some point.
An American linguistics student living in Edinburgh, Richard Littauer, has become so obsessed with the movie (he claims to have seen it around 17 times at the theatre) that he has compiled his own Na'Vi dictionary to help others learn the language. Littauer, or Taronyu to go by his Na'Vi name (stop smirking), is also seeking a girlfriend fluent in the Na'Vi tongue. From the article:
"Strangely, I haven't got a girlfriend at the moment. It's hard to find someone 14ft and blue – that would be perfect for me," he said.

"But if I could find a girl who speaks the language and lives in my area that would be a dream.

"Hopefully one day I can meet one – that would be some wedding. There are also people I know who want to start a proper tribe living in the Amazon or something.

"I plan to get a few people together to go over to Cramond Island on the Firth and we'll spend the night there and sing songs," he added.
While there is little difference between this and the multitude of Trekkies who speak fluent Klingon, I do sometimes wonder why these people don't consider learning a language which, you know, has a little more practicality…