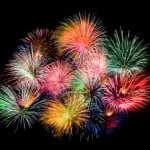 As 2011 beckons and the wanton partying that goes with the celebration of a new year, people have usually planned their night out well in advance. Traditionally spent with friends and loved ones, the celebration (for me, anyway) usually culminates in screaming "HAPPY NEW YEAR!" at the top of our lungs before breaking out into an impromptu (and generally slightly inebriated) rendition of Auld Lang Syne – usually as many of the words as I can recall at that point. I've never questioned why we do this, and why other English speaking countries have the same tradition. And what exactly is "Auld Lang Syne"?
"Auld Lang Syne" was originally a poem, penned by the great Scottish poet Robert Burns. The words are set to the tune of a very popular folk song at the time. The titular words literally mean "old long since" (or less literally, "old times" or "days gone by"). So when we sing the final line of the chorus ("… for Auld Lang Syne"), we're saying "for the sake of days gone by" – curiously enough, looking backwards to past years rather than forward to the new one.
The tradition of singing the song originally came from the Scottish version of New Years Eve, Hogmanay. Singing the song became a tradition in Scotland, which soon spread to the rest of the British Isles. Since the British had a far-ranging overseas empire at the time, it soon spread around the world to other English-speaking countries.
So from all of us at Language Trainers, we hope you have a fantastic start to the new year! Perhaps, like so many others, among your new year resolutions is learning another language…